Singer dedicates new single to Swizz Beatz on their 5th wedding anniversary [VIDEO]
On her fifth wedding anniversary, Alicia Keys released a new single, '28 Thousand Days'.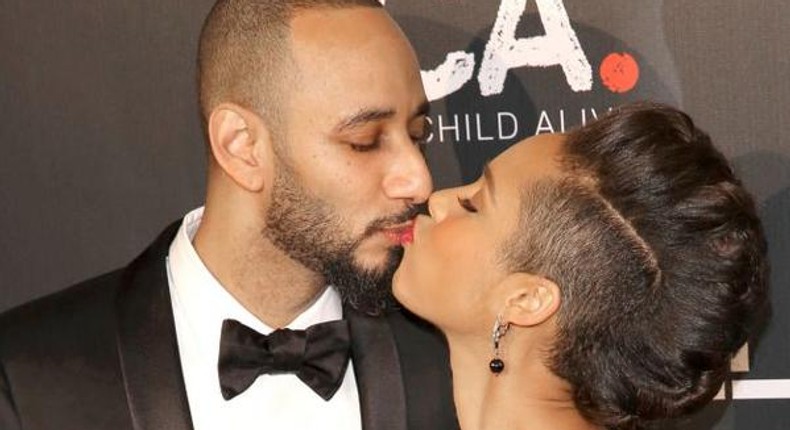 Alicia Keys and her husband, Swizz Beatz, recently celebrated their fifth wedding anniversary on July 31st.
In honour of that special day, the singer released a new single, '28 Thousand Days', written for her husband, another artiste who dedicated a song to her husband on their wedding anniversary is Beyonce.
Alicia made this announcement on instagram saying:
"I've been dyin' to share this new music with you! And this is just the beginning believe me!!  We have so much to talk about! Live everyday like its your last!! #28000days (Link in Bio) *Big love to @faileart for the fresh art!"
Alicia, who is currently on vacation with her family, has been posting a lot of beautiful pictures with the hashtags, #28000days and  #5yearvibes.
She posted one with the caption,  #lovecation  #5yearvibes  photo by:@therealswizzz.
Another post had a longer caption:
"I hear words in the wind, as it blows on my skin, I'm rememberin.....Thank you sun for shininThank u earth for turninThank u sand for burninUnderneath my toesI'm grateful for all you've shownAll I've knownHow I've grownAnd where I'm about to go!!!!!#28000days !!!!"
Congrats to the couple on this lovely achievement.
Listen to the new single below.
JOIN OUR PULSE COMMUNITY!
Recommended articles
Reflo's TV Show: Dealing with stress and anxiety
8 sperm-killing foods that dads need to avoid!
Trashy Bags Africa: Elvis is passionate about the environment
This is why your tomato seeds are not growing and how to solve it in 7 steps
Recreate Hajia Bintu's black-themed birthday photoshoot in 12 easy steps
How to dye your locs in 12 steps
5 survival tips for single people this festive season
Celebrating African heritage through exquisite bridal dresses - Introducing Cindymary Couture
Make this no-yeast bread with only 3 ingredients