Groom to spend 6 months in jail for causing traffic while proposing to girlfriend
If found guilty, he'll be charged with a Class B misdemeanor and may face a maximum sentence of 6-month jail time and a fine of $2,000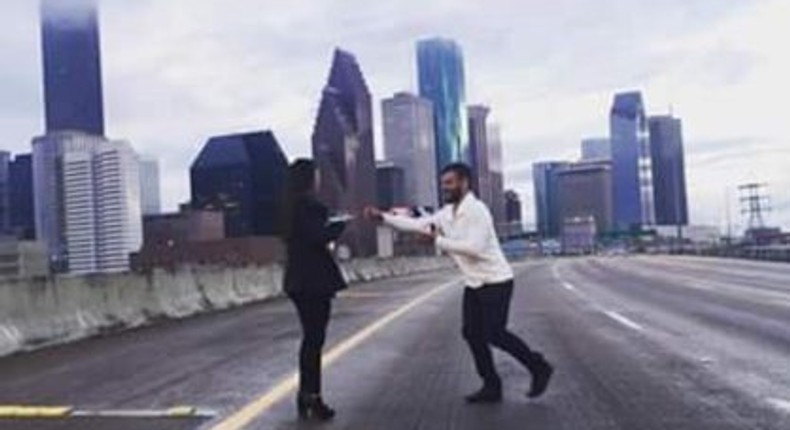 A groom-to-be might be spending sometime in jail after pulling a 'successful' marriage proposal to his girlfriend.
24-yr-old Vidal Valladares had stopped traffic on one of Houston's busiest highway to ask his fiancée, Michelle Wycoff to marry him. The video went viral few hours after it was uploaded on Instagram.
His happiness was cut short after the video drew heavy criticism because the proposal had caused a lot of traffic on the busy interstate.
"I just wanted to do something different,"  said the groom-to-be who didn't know his act would cause much chaos.
The Houston Police Department spokeswoman Jodi Silva confirmed that Valladares would be charged for obstructing the highway.
If found guilty, he'll be charged with a Class B misdemeanor and may face a maximum sentence of 6-month jail time and a fine of $2,000.
In the video, Valladares' friends and family who had helped block  traffic for 35 seconds while the proposal to his girlfriend of one year was going on.
"I never really thought about causing an accident. I thought about my girlfriend," he said remorsefully.
JOIN OUR PULSE COMMUNITY!
Recommended articles
DIY Recipes: How to make Barbecue sauce for Chicken
Serwaa Amihere goes on a corporate fashion spree on the 'gram with 5 gorgeous looks
Energy drinks: The side effects of taking these drinks
How long does it take to fall in love?
3 things women do when they are cheating
Why Accra was named among 100 greatest destinations worldwide
DIY Recipes: How to cook Buttered rice
Meet Van Vicker's wife, Adjoa Vicker, who is stealing the show on social media on her 45th birthday
Oheneyere Gifty Anti wore 7 different outfits to celebrate her 52nd birthday