​This secret ingredient will make healthy dinners taste so much better
Luckily, there's a healthier alternative to the salty stuff: liquid aminos.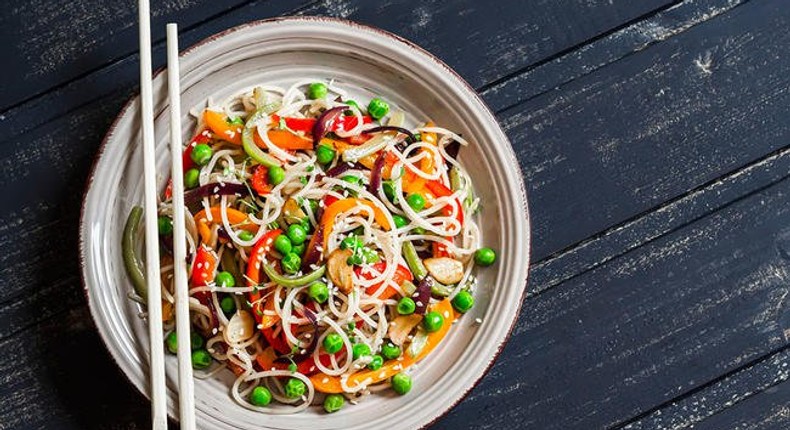 When youre making a healthy meal, you have to beware of one potential saboteur: your condiments.
No matter how much work you put into creating the perfect, healthful masterpiece, it can quickly land in the unhealthy column if you're not careful about staying away from the high sugar and sodium found in many condiments, like soy sauce. Luckily, there's a healthier alternative to the salty stuff: liquid aminos.
What are liquid aminos, you ask? Think of this flavorful ingredient as soy's healthier cousin. "Soy sauce is made from fermented soybeans, water, and salt. Liquid aminos also come from soybeans, but those that are treated to create free amino acids," says Alissa Rumsey, R.D., nutrition expert and author of Three Steps to a Healthier You.
Amino acids are your body's protein building blocks—a.k.a. what you need to build muscle. So adding them to your diet in the form of a supplement or liquid can give your bod an added boost. (They contain a teeny bit of protein too but only a little—about half a gram per teaspoon). While most liquid aminos are lower in sodium than soy sauce, not all are, says Rumsey. "Make sure to check the label and watch the serving size," she says.
Other dietary sources of amino acids are meat and dairy, so if you're veggie or vegan, adding liquid aminos to your meals can help make up for any deficiencies. And unlike soy sauce, liquid aminos don't contain gluten so they're also the perfect addition to a gluten-free diet.
Whether you have dietary restrictions or not, in the kitchen, liquid aminos make for a healthy swap for soy sauce or tamari (it tastes pretty similar to normal soy sauce). "They're great on salads or tossed with roasted vegetables," says Rumsey. "You can also use it in salad dressings and stir-fries."
To get your hands on the flavorful meal addition, order a bottle onlineor look for them in the grocery store near the other condiments.
JOIN OUR PULSE COMMUNITY!
Recommended articles
Diana Hamilton radiates beauty and style in stunning 43rd birthday photos
How does sex change after cheating?
5 lesser-known erogenous zones for men
Skincare secrets: How to clean your makeup properly
Best celebrity pictures on Instagram this week
Here's what to do when a guy won't take no for an answer
DIY Recipes: How to make Peanut butter cookies
All the major events happening in Accra this December
Seduction: Women, easy and effective tips on how to do it right and make your man wanting more