Portuguese star meets with his special fan, Martunis
Cristiano Ronaldo reunits with the 17-year-old Martunis who survived a heavy tsunami tat hit Indonesia in 2004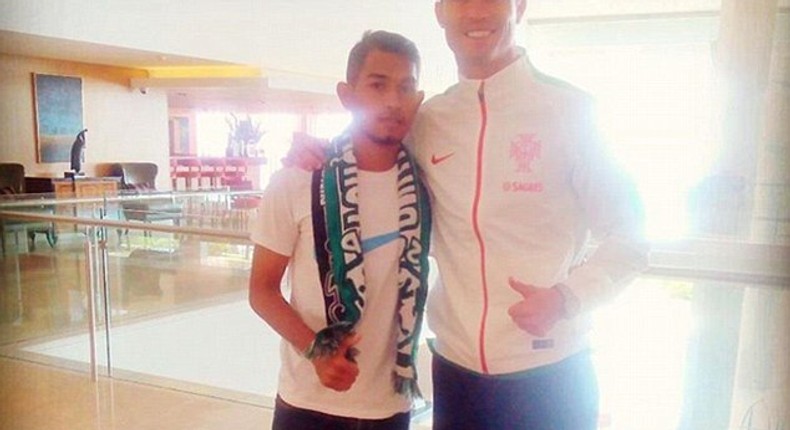 Tsunami survivor Martunis was reunited with his hero Cristiano Ronaldo on Friday, September 4.
The 17-year-old posted a photo of himself and the Real Madrid star at the Portugal team hotel in Cascais where the meeting took place.
"Obrigado @Cristiano, see you on Friday," Martunis wrote alongside the photo in anticipation of  Portugal's friendly against France later this evening.
The Indonesian tsunami survivor signed for Sporting Lisbon academy 11 years after he survived on puddle water following the disaster that killed his mother and two brothers.
The tsunami disaster on Boxing Day of 2004 killed 230, 000 people across 14 countries and caught Martunis  stranded on beach of Banda Aceh where he survived on just water from puddles and noddles for 21 days.
Martunis was found by a group of journalists wandering the beaches of the Indonesian city and was in bad conditions needing a saline drip due to the dehydration he had suffered.
A member of the Save the Children team who delivered him to hospital said that had he been found a day later he may not have survived.
The story of Martunis who was playing football when the 9.3 magnitude earthquake occurred won over the football world as he was wearing a Portuguese football jersey when he was found.
His football hero Ronaldo met with Martunis in the aftermath of the disaster and according to reports, rebuilt the home which he grew up and provided money for his upkeep.
"I believe that many adults would not even be able to deal with what he has gone through. We must respect him. His was an act of strength and maturity. He's a special kid," Ronaldo said at that time.
Ronaldo is an ambassador of some of the world's charity organization like 'Save the Children' and UNICEF and also engaged in several generous donations.
He visited and funded the rehabilitation of one of the victims of the 2004 Indian Ocean Earthquake, Martunis who was found wearing his Portuguese national team jersey.
Ronaldo donated £100,000 to the hospital that saved his mother's life in Madeira following her battle with cancer, so that they could build a cancer centre on the island.
In November 2012, Ronaldo sold the golden boot he had won in 2011 for €1.5 million and gave the money to fund schools for children in Gaza.
All these acts among other ones are the reasons the 30-year-old was voted the most charitable athlete in the world.
Watch this Cristiano Ronaldo video below:
JOIN OUR PULSE COMMUNITY!
Recommended articles
7 weird things that happen during sex, and they're normal
Soldier takes pregnant wife to hospital for delivery, beats up 2 nurses, breaks one's leg
Young Railways manager killed by moving train
Shatta Wale and Medikal go for 'sea bath ritual' after release from prison (WATCH)
Afia Schwarzenegger battles death as she cries for help on sickbed (VIDEO)
Make-up sex: Here is why you should have it after a fight
11-year old boy always isolates himself to cry as bullies call him crocodile (video)
Every man needs a Fella in his life - Fella Makafui's appearance in court caught fans in admiration
30-year-old Ghanaian man stones mother to death after she begged him not to travel at night