Ghana does not have reliable data for agriculture - Minister
According to Mohammed-Muniru Limuna, the last time the country conducted an agricultural census was 37 years ago. As such, information from that census had become obsolete and could not serve as a reference point for planning and decision making in present times.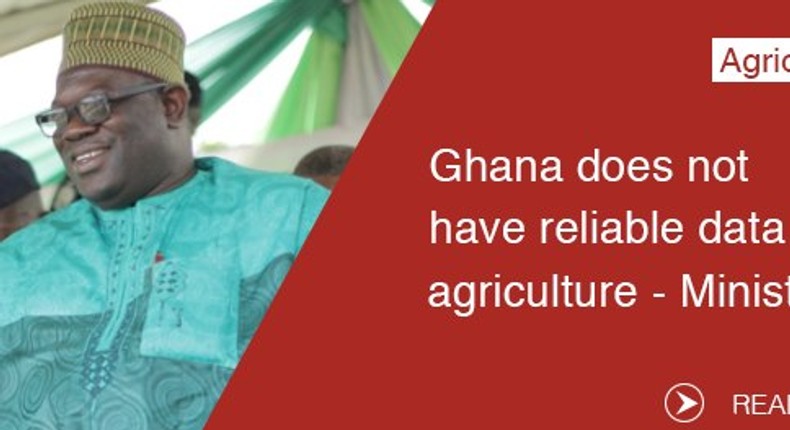 The Minister of Food and Agriculture has said that the country does not have reliable data on agriculture.
He said this in Parliament at a meeting of members of the committee on Poverty Reduction Strategy to determine whether the country had met targets set under the Ghana Shared Growth and Development Agenda (2010-2013).
The minister called for increased funding to the ministry so that agricultural census and other related research could be conducted to aid in effective decision making.
"It is important as a country we go back and resource the Ministry of Food and Agriculture to conduct agric census to enhance productivity of agriculture."
Agricultural censuses are important because they give governments relevant information about agric land use; average farm sizes; total area of arable land; irrigation; crop patterns; and related matters concerning livestock and fishing.
Most people looking for information on the agriculture sector in Ghana turn to research conducted by non-governmental and international agencies such as the United Nation's Food and Agriculture Organization.
In June 2015, the previous minister Fiifi Kwetey, announced that plans for an agricultural census to be conducted by the Ghana Statistical Service were facing financial challenges.
The country's agriculture sector grew by 0.4 percent in 2015.
Recommended articles
Church of England launches project to stop referring to God as 'He', 'Him' and 'Our Father'
Ken Ofori-Atta should be chased out of office by the military – Yaw Tano
Enchi constituency: 14 persons arrested in connection with disturbances at NPP elections
University of Ghana converts plastic waste to petrol, diesel and gas
Police pushed cannabis into his throat in our absence - Shadrach's sister alleges
Ablakwa vs Kusi Boateng: NDC condemns judicial abuse and despicable efforts to gag MPs
Meet Alphonsus Adu-Bredu an NSMQ alumnus developing wild robots
You are not a preacher, you are a witchdoctor – Prophet Oduro slams Kyiri Abosom
GH₵50m worth of cannabis destroyed by NACOC