IGP dismisses new police recruits
About 3,000 newly recruited officers of the Ghana Police Service have been sacked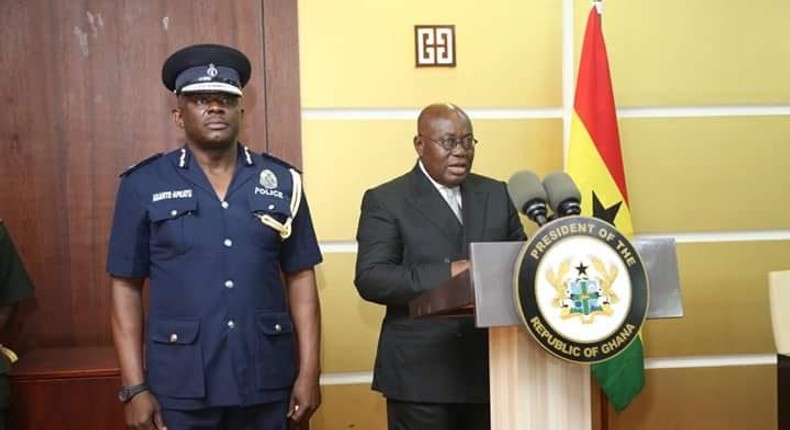 The Inspector General of Police (IGP), David Asante-Apeatu, has
The affected recruits include those under training at the National Police Training School (NPTS) in Accra and the Service's training schools in Kumasi, Ho, Koforidua and Pwalugu in the Upper East Region.
A letter written to Commanding Officer of the Pwalugu Police Training School by COP Beatrice Vib-Sanziri, the Director-General in charge of Human Resources, said all the recruits who submitted only WASSCE certificates should be referred to the Criminal Investigations Department (CID) for further vetting.
According to the letter, all those who submitted BECE, NVTI, NABPTEX and City and Guilds certificates are to return home.
Recommended articles
Blame govt's indebtedness to suppliers over shortage of premix fuel — Minority
Regressive 2.5% VAT will widen poverty gap — Tax analyst
Ban on galamsey will do Ghana more harm than good – Dep. Lands Minister
Ofori-Atta has more integrity than 99% of Ghanaian politicians – Prof Adei
WAEC releases 2022 WASSCE results
We expect Akufo-Addo to abide by agreement we had on Ofori-Atta's sacking – NPP MPs
National Service Scheme suspends Ashanti Regional Director with immediate effect
I lost $12 million to cedi depreciation – Agyapong blasts Bawumia for 'bowing to Ofori-Atta'
Refund Ghc115,000 'illegal mining' money you collected – Destooled chief fights Okyenhene