Today's Front Pages
Here are today's newspaper headlines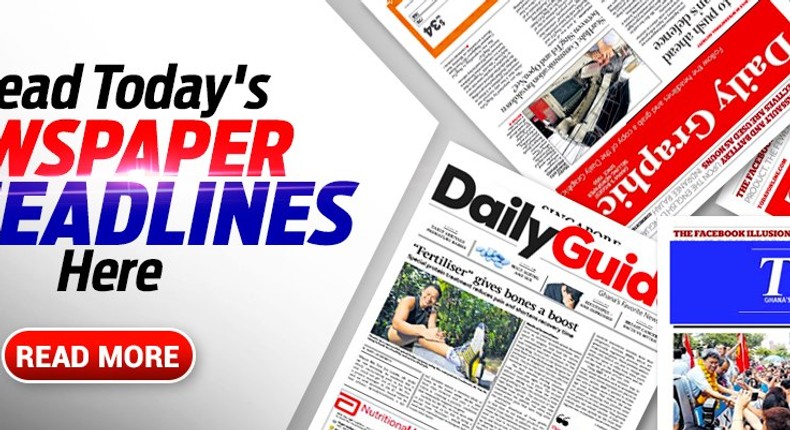 NATIONAL SECURITY CHASES AJET-NASAM
The National Security has mounted an intensive search for Justice Ajet-Nasam, one of the implicated High Court Judges caught on video allegedly taking bribe to pervert justice.
An attempt to smuggle to the United Kingdom (UK)_, suspected Indian Hemp wrapped in dried plantain leaves to make it appear as 'Fante Kenkey' was last Monday foiled at the Kotoka International Airport (KIA) with the arrest of a 62-year-old driver.
ASSEMBLIES MUST BE READY TO BORROW FOR PROJECTS – TERPKER
Metropolitan, municipal and district assemblies (MMDAs) have been told to brace themselves up for the possibility of borrowing to support the development of infrastructure in their areas of jurisdiction.
It has emerged that National Security operatives are on the heels of John Ajet Nasam, one of the High Court judges indicted in the Anas Aremeyaw Anas judicial bribery and corruption scandal.
….AS LAWYERS FIGHT OVER MASK
There were fireworks yesterday at the Chief Justice's committee investigating the judicial service staff implicated in the Anas Aremeyaw Anas bribery and corruption scandal when a lawyer requested that Anas be unmasked.
The five New Patriotic Party (NPP) activists convicted for murder were yesterday set free by the Appeal Court in Kumasi after several years of incarceration over the killing of Abdul Rashid Mohammed, a butcher at Tamale in the Northern Region.
INFLATION, INTEREST RATES TO WORSEN
Ghana's inflation and interest rates are expected to inch up further before the year ends. This is an indication that government and the Bank of Ghana's tight fiscal and monetary policy will continue unabated, crowding out the private sector from accessing credit.
INTEREST COSTS TO EXCEED WAGE BILL, EXPERTS WARN
Economists are warning that Ghana's interest payments could be the largest item on public expenditure this year if government continues to contract loans at outrageous interest rates.
WE'LL RESIST KILLER TARIFFS – AFAG WARNS, INVITES GHANAIANS TO THE STREETS
The Alliance for Accountable Governance (AFAG) has described the Public Utility Regulatory Commission's (PURC) attempt to increase tariffs as "sheer economic enslavement", thus vowing to resist it with "mass action".
NDC BOSSES MAD OVER BLOATED LIST
There is an uneasy calm in the National Democratic Congress (NDC) in the Sekondi-Takoradi Metropolitan area, following the surprise inclusion of strange names on the list of candidates who applied to be candidates who applied to be considered for the position of the Chief Executive of the Sekondi-Takoradi Metropolitan Assembly (STMA)
Recommended articles
Condoms to be completely free for French nationals 18 to 25 years from January
Tax-evading Chinese nationals release wild dogs on GRA officers
I'm innocent and committed no crime — Ken Ofori-Atta
44,000 teachers fail licensure examinations
Dr. Duffuor will make Mahama sweat for NDC's flagbearer slot – Ben Ephson
About 70% of Ghanaians have more trust in religious and traditional justice systems
Ghana's 8th parliament of the 4th Republic cannot be taken seriously — Prof Gyampo
GSS Survey: 75% Ghanaians think corruption has increased in the country
Man arrested for hitting wife's head against wall multiple times till she died