Today's Front Pages
Here are today's newspaper headlines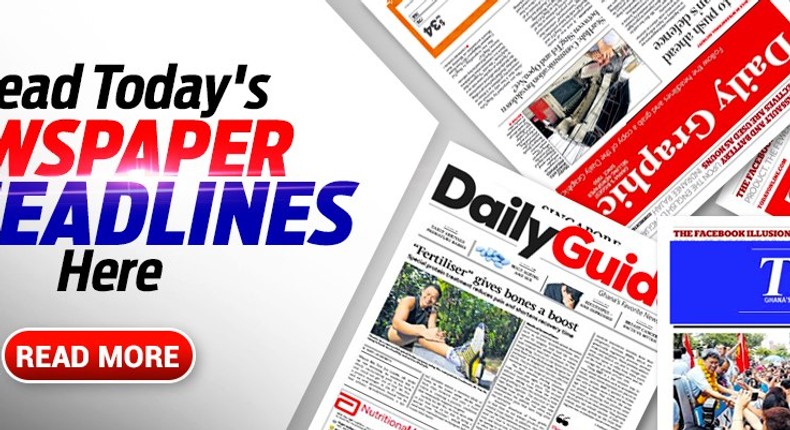 CHASS, GES, COMPANY IN TUSSLE OVER ID CARD PRINTERS ACQUIRED BY SHSS
One hundred card printers acquired at a cost of Ȼ1,038,150 by Some Senior High Schools (SHSs) in the country have become while elephants.
The embattled National Chairman of the New Patriotic Party, Paul Afoko, has made known his intention to head for the law court by Friday to primarily defend and uphold the party's constitution.
BOG INCREASES POLICY RATE TO 26 PERCENT
The Bank of Ghana has, in a surprise move, increased its main interest rate by 100 basis points to 26 percent from 25 percent to fend off mounting inflation and consolidate the stability of the cedi.
President John Mahama has said that he has calmed down about growing complaints by Ghanaians that his government has been largely incompetent because such criticisms should only be taken seriously if and when they come from presidential position he occupies.
VRA CHOKED OVER $1.3B DUMSOR DEBT
The Thermal plants in Tema being run by the Volta River Authority (VRA) have been shut down, thereby compounding the power crisis (dumsor) in the country.
FLAGSTAFF HOUSE SECURITY, MINISTER IN BRAWL
The life of the bodyguard of the Volta Regional Minister, Helen Ntoso may be in danger whenever he visits the Flagstaff House in Accra as some persons who claim to be security details at the presidency have reportedly threatened to deal with him.
Barring any unforeseen circumstance, especially bad marine and weather conditions, the 225 megawatt power badge from Turkey will arrive in Ghana and dock at Tema next Wednesday, November 25, 2015.
BoG SUFFOCATES BUSINESS FURTHER
The Bank of Ghana has increased the base rate by a record 500 basis points this year alone, inflation the cost of credit and dampening business.
LAW PROF CHALLENGES ATTORNEY GENERAL: TO SAVE 1000 LAW STUDENTS
A Untied States-based Ghanaian law professor, Stephen Kwaku Asare has challenged the Attorney General to act swiftly to save the lives of 1000 law students whose professional developments has been unlawfully curtailed.
Ȼ1.6B LOST TO TAX EXEMPTIONS
The value of import exemptions for the first nine months of this year exceeded what the government has budgeted for the period by more than a billion Ghana cedis.
MPC RAISES RATE TO FIGHT INFLATION, CEDI FALL
The Monetary Policy Committee (MPC) of the central bank is confident that increasing the policy rate from 25 to 26 percent is a prudent decision as it bids to bring down inflation, which continues to remain outside the bank's medium –term target of 8 percent.
WA AIRPORT READY IN 2016 – TERKPER
The Wa Airport is to be completed for commercial passenger operations next year, said Finance Minister Seth Terkper at his presentation of the 2016 Budget and Economic Policy of government delivered to Parliament last week.
JOIN OUR PULSE COMMUNITY!
Recommended articles
MPs misguided on law on their arrest - Anyenini
Ghana's anti-LGBTQ+ bill unacceptable and must be resisted - UK Bishop
Two busted for allegedly trading with fake currency
Akufo-Addo is the most lawless President Ghana has ever had – Dr. Nyaho-Tamakloe
He promised to send me abroad if I conceal our sexual activities – NDC guru's daughter tells court
"I've never seen Ghana as hard as this" under Nana Addo – Brigadier Nunoo-Mensah
No need for Nana Addo to apologise to Aflao chief - Buaben Asamoa
Update on investigations into the disappearance of Rhodaline Amoah-Darko
It's disappointing that CHRAJ and NCCE haven't condemned the anti-LGBTQI Bill – Akoto Ampaw