Give me a chance to make history - Nana Addo begs voters
Nana Akufo-Addo made this known on Monday, August 8 when he called on the regent of Dagbon, Andani Yakubu Abdulai at the Kampakuya's palace to formally introduce himself as NPP's presidential candidate for the December 7 polls.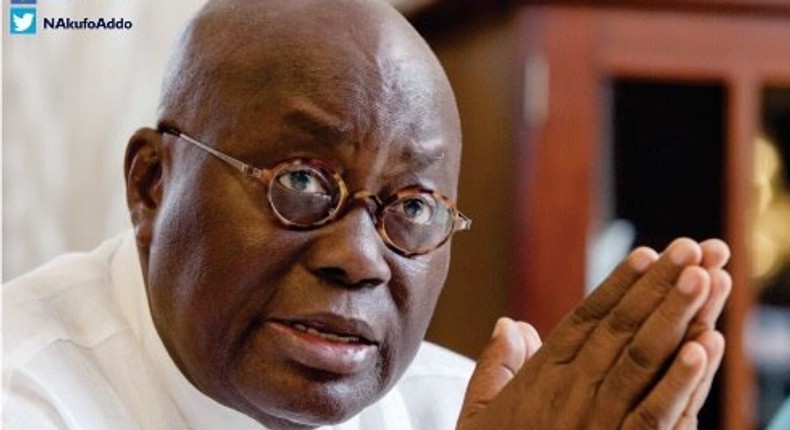 He said: "I know as Chiefs, you don't wear political jerseys, but I want you, this time, to vote for me, because what I am hoping and fighting for is that when the history of Ghana is being written, in the time of our grandchildren, they will say that it was when Akufo-Addo became president that Ghana became prosperous, and when the people saw the benefits of progress and prosperity in our time."
The NPP flag bearer further urged the chiefs and elders of Dagbon to ignore the propaganda that he will destool  Andani chiefs if he becomes president.
"[You] have nothing to fear. If God-willing, in December, I am successful, the Andani people and the Regent should know that, in me, they have somebody who is going to be a father for everybody, not looking left or right, but being fair and making sure that there is peace and unity in Dagbon and in Ghana.
"Even the affairs of my own palace, the Akyem Palace, I am not involved. How do I come here to Dagbon and get myself involved in the affairs of the Dagbon people? That is not my interest."
He assured the people of Dagbon of massive infrastructural development if they vote him into power.
"Give me a chance, and…try me and see, because I have something good and positive for Ghana. I want the opportunity to serve my nation and serve my people to the best of my ability. We have big plans for the development of Ghana and Dagbon," Nana Addo said.
Recommended articles
EC registers over 673,000 new voters in limited registration exercise
Akufo-Addo's govt is planning to sell NIB and ADB to its cronies - Minority alleges
We're looking at using electric vehicles for public transport soon - Bawumia
WAEC threatens to delay marking of BECE, WASSCE over unpaid GH33 million
We'll win the 2024 elections; stay focused – Bawumia charges NPP supporters
I will fight back if the NPP tries to discredit me – Alan Kyeremanten warns
Alan Kyerematen vows to defend his contributions to NPP amid resignation from party
Police leadership initiates outreach to St. John the Evangelist Catholic School
E/R NPP Chairman advocates party cohesion and applauds IGP's accomplishments