Pass WASSCE to shame NDC – Akufo-Addo urges Free SHS students
President Akufo-Addo has urged beneficiaries of the Free SHS programme to pass their WASSCE in order to shame all those who cast doubts over the feasibility of the policy.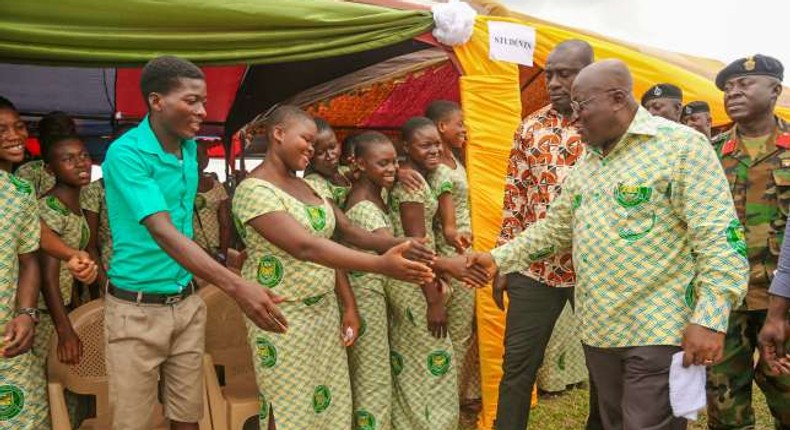 He said although not everyone is happy with the Free SHS, the programme has come to stay for good.
The President was speaking to the management and students of St. Mary's Senior High School in the Ablekuma South Constituency as part of his tour of the Greater Accra Region.
"What I am hoping for, and I am sure you will fulfil, is that in the exams that you are going to do in May and June next year, conduct yourself in such a way that everybody will see that, indeed, the free senior high school policy is a positive policy for the country and shame all the detractors and those who did not want it to happen," Nana Addo stated.
"It is not everyone in this country that is happy about this free senior high school policy that the NPP government and I are pursuing."
The President further took a swipe NDC flagbearer John Mahama for suggest he will review the Free SHS policy if his party returns to power in 2020.
According to him, the NDC and Mahama have no plans of reviewing the programme but are rather bent on scrapping it.
"They began by saying that it was a gimmick; they then said that it could not be done for another twenty years.
"They then said it was too expensive and now they are telling us that when they come back to power, only God knows when they are going to review it. The word review means cancel," Nana Addo added.
President Akufo-Addo is currently on a three-day working visit to various parts of the Greater Accra Region.
Recommended articles
Businesses will hardly be hit by the passage of new tax bills – GUTA
CRPL-Ghana beseech speaker Alban Bagbin to withdraw inappropriate LGBTQ+ statement
Court Restrains Joseph Yensu from Contesting Aowin NDC Primaries over Fraud Allegations
Supt. Effia Tengey exits from Ghana Police Service
I followed the rules, i did nothing unexpected - Alban Bagbin
Parliament passes three new taxes
MP for Nanton involved in accident ahead of passage of 3 new tax bills
We have to win the 2024 elections for Jerry John Rawlings – Dr. Kwabena Duffuor
Humanitarian Awards Ghana announces 100 Most Impactful 2022 Change Makers