Man shows his girlfriend how to ask for money- do you agree with him?
According to this gentleman beating about the bush would never make his wallet appear.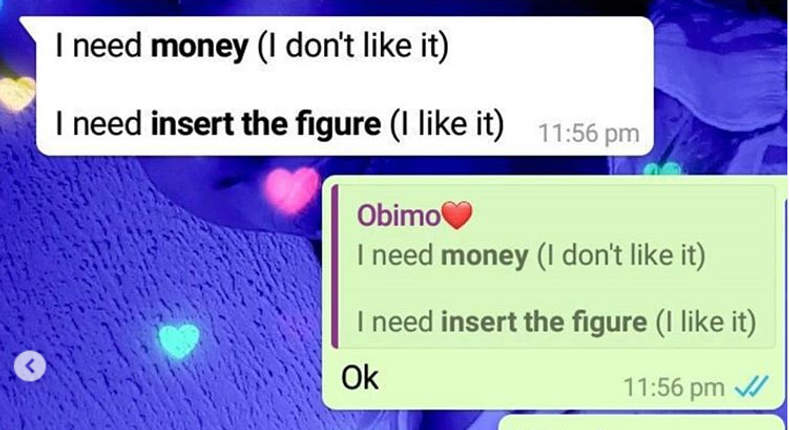 The role money plays in a relationship is a very tricky one which has made and unmade relationships. But if you find yourself with a man who isn't 'the normal kind of guy' then don't expect 'a cultural based kind of relationship' with him. 
Conferring to this not 'normal kind of guy', here is how to ask him for money;
•  2-3 days' notice for a need that is not an emergency
Pulse Ghana
  I need money (I don't like it) instead of saying I need 'insert the figure' (I like it)
•  Buy me something (I don't like it) instead of saying buy me 'insert specific item, quantity and quality. And brand, texture and colour preference (I love it)
Pulse Ghana
Ladies how many of y'all will date this fine gentleman. 
Get our Top Stories delivered to your inbox
Recommended articles
Nana Akufo-Addo charges the youth to embrace responsibility
Kwame Nkrumah didn't achieve anything; Akufo-Addo is better than him – Agya Koo
UEW stakeholders set October 7, deadline to settle GPA issues after protests
Chief in Mankessim murder case is alive – Police
President Akufo-Addo booed during speech at Global Citizen Festival
Judges are not above the law; they can be criticized – Hassan Ayariga
Three more students arrested in connection with Katanga, Conti riots
We didn't issue Aisha Huang's return visa – Ghana Ambassador to China
UEW - Students protest over discrepancies in their results.