UK votes to leave EU in historic referendum
England and Wales voted massively for Brexit while London , Scotland and Northern Ireland voted strongly for Bremain.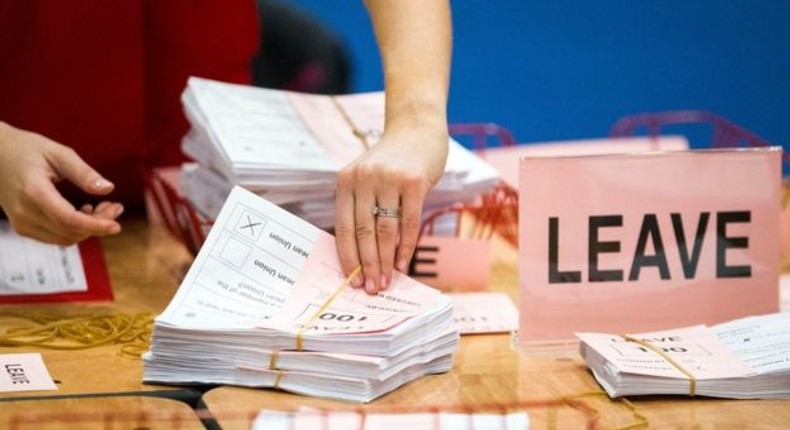 The United Kingdom has voted to leave the European Union in a historic referendum.
The Leave supporters won by 52%.
UKIP leader Nigel Farage a strong advocate of Brexit hailed the results and called it "independence day" for the UK but Bremain supports have called the decision a "catastrophe".
Meanwhile the UK has began feeling the effects of leave the EU as the pound fell by 11% against the dollor for the first time in about three decades.
British Prime Minister David Cameron said the choice of the people will be respected and announced his intention to resign after the referendum results.
In announcing his resignation, David Cameron said "The country needs a new leadership" , but also added that he would remain in office until October 2016 to ensure that Britain transitions smoothly into her new state as an independent and EU-free country.
UK slammed the door on the European Union at the end of a Thursday evening referendum with 51.9% of votes (17,410,742) in favor of leaving the EU. The historic Brexit vote has seen some dim consequences for Britain despite having been cast just hours ago. The UK pound has reported hit an all-time low that had never been experienced since 1988. The surprise result will rattle Europe and shape the nation's place in the world for years to come.
The referendum followed months of campaign for and against the motion.
JOIN OUR PULSE COMMUNITY!
Recommended articles
Top 10 African countries with the highest GDP projections for 2023
Top 5 economies in Sub-Saharan Africa to watch out for in 2023, according to IMF
Tanzania joins the list of African countries to sign an oil deal in the new year
Shocking IMF report reveals Angola and Ethiopia to surpass Kenya as top economies in Sub-Saharan Africa
10 wedding gowns on trends for 2023 brides
Aisha Modi reveals her killing job in America that pays extremely well (WATCH)
Court orders lady to pay $80,000 to man for dumping him after he paid her school fees
Nigerian LGBT rights activist being installed chief in Ghana falls off palanquin (video)
Kenya and Tanzania tear down 23 trade barriers hindering their commercial relationship