Majority Leader predicts first round victory for Mahama
At the onset of the Mahama administration, Bagbin criticized the president over his leadership, saying he is not enthused about how he is "leading us."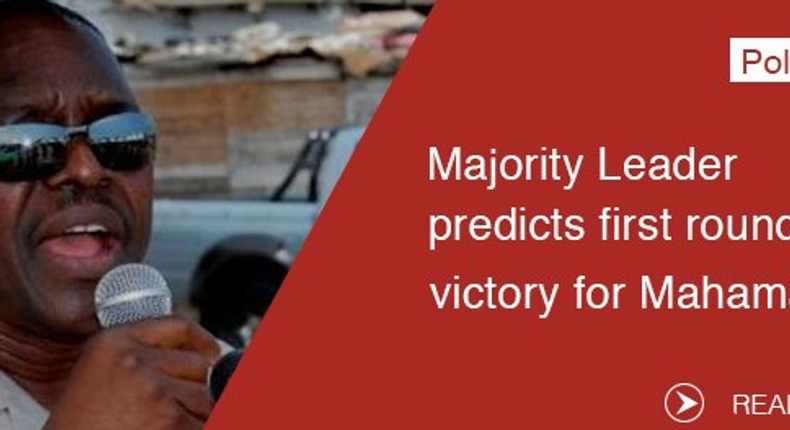 Majority Leader Alban Bagbin has predicted a first round victory for President John Mahama in the November polls.
"I am more than confident that this election will not go a second round," Bagbin told party supporters in the Upper West Region.
He added that the president has failed to root out corruption.
"I have been part the global fight against corruption, right up from the first parliament and so I have been part of that crusade in this country and so I expected that on the assumption of power, His Excellency President Mahama will have been employing those instruments to fight corruption," he said.
But Bagbin says a lot has changed since his criticism of the president.
He said with "extreme humility," the president has made sure proper things were done in an interview Citi FM.
He said: "I am among the first voices to raise the alarm bells about the need for his Excellency to review some things and move in the right direction, which he, with extreme humility complied with and made sure proper things were put in place; and in doing that I saw the humility in this gentleman, he did not in any way try to show that he had the whole power of the nation at his disposal."
JOIN OUR PULSE COMMUNITY!
Recommended articles
Top 10 African countries with the highest GDP projections for 2023
Top 5 economies in Sub-Saharan Africa to watch out for in 2023, according to IMF
Tanzania joins the list of African countries to sign an oil deal in the new year
Shocking IMF report reveals Angola and Ethiopia to surpass Kenya as top economies in Sub-Saharan Africa
10 wedding gowns on trends for 2023 brides
Aisha Modi reveals her killing job in America that pays extremely well (WATCH)
Court orders lady to pay $80,000 to man for dumping him after he paid her school fees
Nigerian LGBT rights activist being installed chief in Ghana falls off palanquin (video)
Kenya and Tanzania tear down 23 trade barriers hindering their commercial relationship