<scriptid="mct-script"src="https://app.mycountrytalks.org/embed.js"data-iframe-src="https://app.mycountrytalks.org/talks/9b3c8cc1-8a05-4fa0-bcc2-edef9d8b28d1/join?starting_question=1153"async></script>
NHIA inaugurates biometric registration centre for Police
The centre would provide an avenue for serving and retired police personnel, as well as members of the public, to register or renew their membership cards while they seek for medical care at the hospital.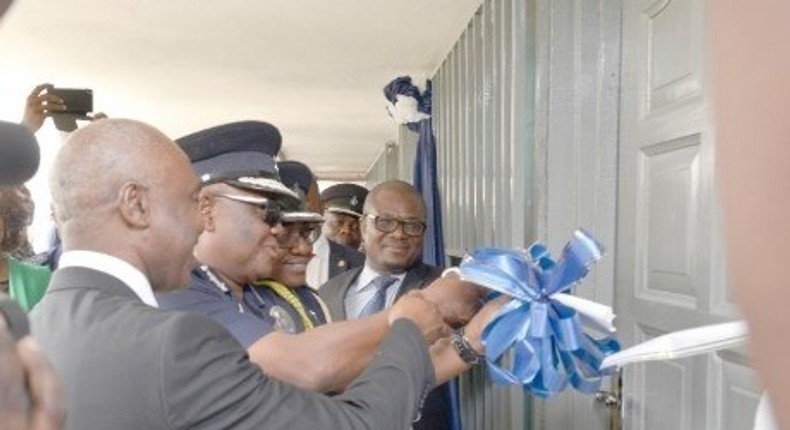 A new biometric registration centre of the National Health Insurance Authority (NHIA) for the Ghana Police Service has been inaugurated.
The acting Inspector General of Police (IGP), Mr John Kudalor, who did the inauguration, said as a nation health insurance remained one of the surest ways of paying for healthcare services of citizens.
As a result, he said, police personnel and their dependants would also need the NHIA cards to access healthcare service everywhere including the Police Hospital.
Mr Kudalor requested that the National Health Insurance Department of the Police Hospital undertake public sensitisation of personnel on the importance of joining the scheme.
"Police Administration will support the idea of getting all police personnel and their approved dependants hooked onto the National Health Insurance Scheme (NHIS)," he said.
According to him, the Police Hospital remained one of the most preferred hospitals by clients of the NHIS.
Personnel of the police service can now register themselves, one spouse and four children below the age of 18 and submit receipts through their commanders for a medical refund by the Police Administration.
He commended the medical director and management of the Police Hospital and other collaborators for the initiative.
COP Kudalor gave an assurance that his outfit would continue to support the hospital to make it a centre of excellence in healthcare delivery service in the country.
He expressed the hope that the new partnership between the police and the NHIA would yield more results to ensure a healthy police force.
For his part, the acting Chief Executive Officer of NHIA, Mr Nathaniel Otoo, said the aim of the scheme was to offer the very best of healthcare services to its numerous clients.
JOIN OUR PULSE COMMUNITY!
Recommended articles
10 African countries with the lowest digital quality of life index
Ghana may lose control of its resources to China if it defaults on its debt
Top 10 richest mineral-producing countries in Africa
Akufo-Addo to address nation tonight on Covid-19, IMF deal
Polytechnic student commits suicide after losing his and roommate's fees to betting
E/R: Vehicle plunges into river, killing three
8 persons arrested by Police at NDC primaries for various offenses
7 incredible health benefits of bitter kola
List of incumbent MPs who were booted out of candidacy