<scriptid="mct-script"src="https://app.mycountrytalks.org/embed.js"data-iframe-src="https://app.mycountrytalks.org/talks/9b3c8cc1-8a05-4fa0-bcc2-edef9d8b28d1/join?starting_question=1153"async></script>
DKM customers express disappointment in NPP
The DKM customers said they are disappointed in the Brong Ahafo Parliamentary caucus of the party for failing to fulfil their promise to retrieve their locked up funds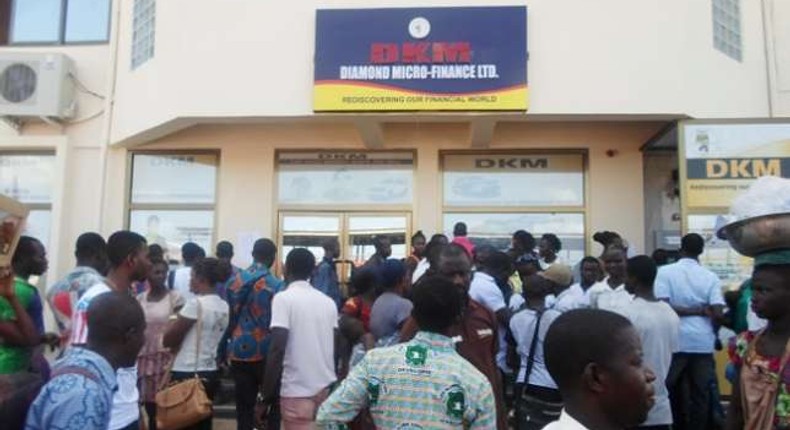 They said they are disappointed in the Brong Ahafo Parliamentary caucus of the party for their inability to retrieve their locked up funds.
The Bank of Ghana (BoG) shut down the company in May 2015, after it reportedly failed to comply with the terms and conditions required in its licence and also for purportedly possessing assets deemed too insufficient to meet its liabilities to investors.
Devastated depositors across the country have blamed the BoG for alleged failure to ascertain the capabilities of the company from the onset before granting it licence to operate.
Nana Akufo-Addo prior to the 2016 elections said he will launch an investigation into circumstances surrounding the Diamond Microfinance Company (DKM) scandal if voted to office.
He said it was clear that the erstwhile administration [NDC-led government] have failed to adequately deal with the matter leading to thousands of Ghanaians losing their monies.
The aggrieved customers said Nana Addo has been in office for seven months but nothing has been done to retrieve their monies.
"The President came to convince us that he could retrieve our monies for us so we voted massively for him and his Members of Parliament. It is history that only the NPP has twenty seats in the Brong Ahafo region but we did it because we thought they will collect our monies for us.
"They started to pay us our monies but when Nana Addo came they have stopped. They have stopped paying the money and as for me, I have not received any amount. My child was supposed to go to Senior High School but I invested my money and I could not get it back so he has to stay back at home," the aggrieved customers said.
JOIN OUR PULSE COMMUNITY!
Recommended articles
Agya Koo's Kumasi mansion sets social media ablaze (VIDEO)
Akufo-Addo to address nation tonight on Covid-19, IMF deal
I don't think I got married too early; I'm still pursuing my dreams -Dr Louisa
Polytechnic student commits suicide after losing his and roommate's fees to betting
I was stranded – Man, 64, jailed 12 months for sleeping in John Paintsil's house cries (video)
E/R: Vehicle plunges into river, killing three
7 body parts you must clean every day to avoid body odour
Top 10 African cities where it is cheap to get food
Ghanaian who spends GHC700 on lottery weekly reveals how much he's won since 1983 (video)