Despite economic volatility, we've ensured massive infrastructure dev't – Mahama
He made the comments at the 24th anniversary of the National Democratic Congress.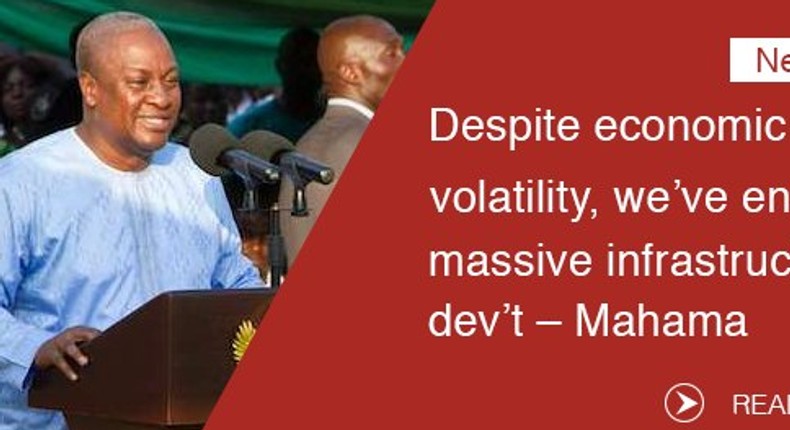 President Mahama has said his government has ensured massive infrastructure development despite global economic slowdown.
He added "many jobs" have been created and the economy "stabilized."
"…notwithstanding the challenges of a lower-middle income economy in an area of global economic volatility, we have still striven to ensure massive infrastructural development, stabilised the economy, created many jobs and are still creating more through significant flagship programmes such as the Komenda Sugar factory, the business processing outsourcing centre near the Nkrumah Circle Interchange, among many others," president Mahama said.
He made the comments at the 24th anniversary of the National Democratic Congress in Accra.
He said the investment in infrastructure and job creation is driven by the party's believe in social democracy.
President Mahama said his government has endeavored to "connect to the people through transparent and accountable governance," making direct reference to his "Accounting to the People Tour."
He added that his achievement has "received recognition beyond the shores of Ghana."
"All around us, we have witnessed the significant works we have done in education and health care and the other social sectors. This is recognised not only nationally, but globally. We are moving forward in the right direction and we are changing the lives of our people and we are transforming our country Ghana," he said.
The president hailed the founding members of the NDC for "initiating the process" that has elevated the party "to emerge as the party that on a standardised basis has constituted the most to the development of our dear nation Ghana."
He added: "To my predecessors, President Jerry John Rawlings and President John Evans Atta Mills of blessed memory, I also say 'ayekoo', we salute you".
JOIN OUR PULSE COMMUNITY!
Recommended articles
'BBTitans': 2 housemates break one of Big Brother's greatest rules
Ghana's gift to the world: How Idris Elba served the Ghanaian kente at Akwasidae
Veterinary doctor and his team 'fly' as sedated lion suddenly wakes up (video)
65th Grammy Awards: Dentaa Amoateng sells Ghana to the world with the perfect kente outfit
Christian Atsu reportedly missing under rubble after earthquake in Turkey
Ibrahim Mahama to pay for treatment of former NSMQ contestant suffering from bipolar disorder
Christian Atsu not found yet - Hatayspor Vice President
4 sexual fantasies women often have
Video: Christian Atsu's family sings praises to God after footballer's rescue