Sammy Crabbe to appeal court's decision
An Accra High Court on Thursday dismissed a suit against the NPP by Mr Crabbe, challenging his suspension.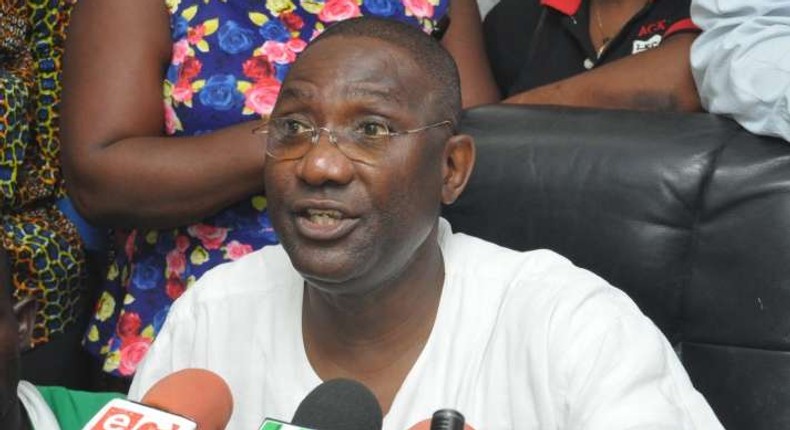 Suspended Second Vice Chairman of the opposition New Patriotic Party (NPP),
Mr Crabbe who was suspended in 2015 after refusing to appear before the National Disciplinary Committee of the NPP to respond to misconduct charges leveled against him by some members, dragged the party to court, citing a breach of procedure.
According to the court, the committee has the jurisdiction to hear and punish anyone who breaches the party's rules.
Mr Crabbe is quoted by citifmonline.com to have told Citi News he will appeal the court's decision because he disagrees with the judge.
"Basically, I disagree with the judge so I shall appeal on the grounds that, I pointed to the fact that as an elected officer, if anybody had any petition against me, Article 43 (D) states very clearly that the person has to go to the national council and not the national disciplinary committee. Nobody is above discipline in the party but processes have to be followed. And I don't think he ruled on that. There are other things I disagree with him so my lawyers will look at that and we will go on."
"Elected officers in the party enjoy a certain degree of security of their tenure. It's very important to their motivation and I believe that is under threat so that's what I am going for. Others are saying that I went to seek reinstatement as a suspended officer; which is not so because I don't even recognise that so-called suspension because they don't even have jurisdiction to do that," he said.
Mr Crabbe however stated that his decision to seek redress was not to distract the party as some have asserted.
"I never said I was above the law. I only said if you have something against me don't take it to the disciplinary committee. There are reports I turned down several invitations from the committee but it was just once that they wrote to me and I wrote back to them that I am sorry and cannot appear before them because per the constitution they did not have that power. The judge did not handle those two things; I find it strange and I want to find out why. So I have the right to appeal and I shall go on until I get my justice."
JOIN OUR PULSE COMMUNITY!
Recommended articles
'BBTitans': 2 housemates break one of Big Brother's greatest rules
Ghana's gift to the world: How Idris Elba served the Ghanaian kente at Akwasidae
Veterinary doctor and his team 'fly' as sedated lion suddenly wakes up (video)
65th Grammy Awards: Dentaa Amoateng sells Ghana to the world with the perfect kente outfit
Christian Atsu reportedly missing under rubble after earthquake in Turkey
Ibrahim Mahama to pay for treatment of former NSMQ contestant suffering from bipolar disorder
Christian Atsu not found yet - Hatayspor Vice President
4 sexual fantasies women often have
Video: Christian Atsu's family sings praises to God after footballer's rescue