Controversial SA pastor orders members to eat mango leaves
The ever controversial South African Pastor, Penuel Mnguni, has struck yet another one by ordering members to eat mango leaves.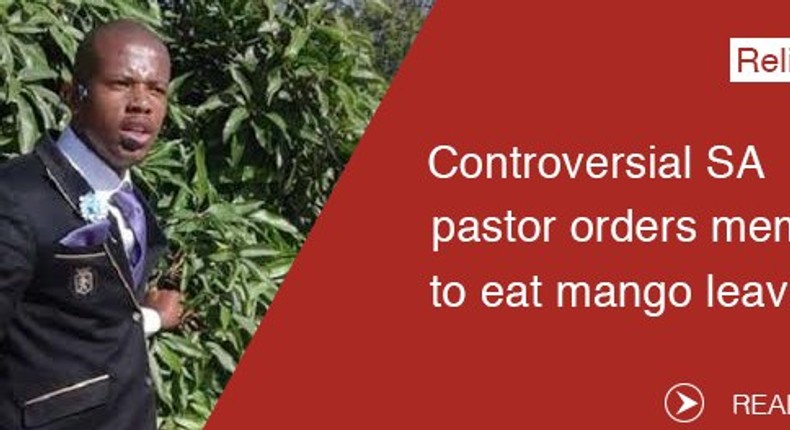 According to a post on his church's Facebook page, the incident happened on Sunday, June 19, during one of its deliverance service, when Pastor Mnguni led the members out of the church to the courtyard where he pointed to the tree and commanded them to start chowing on the leaves.
Three of the members, always quick to believe their pastor, began plucking the leaves and eating them voraciously.
This is how the church described the incident:
"Demonstration of God's Power
The Man of God prophet Penuel while ministering about 'Fathers Who Do not Reject The Power of God', he went to a Mango tree and declared it to be KFC, Pizza and Spaghetti.
After the declaration he commanded some of the congregants to eat from the tree and as declared, three (3) of the congregants rushed to eat.
After eating they confirmed that what they ate is indeed KFC and the other said it was Pizza and the last one said that it tasted like spaghetti.
ALL THINGS ARE POSSIBLE WITH GOD.
This is not the first time Pastor Mnguni has stirred up such controversies as he was the same one who ordered his female members not to wear pants and underwear to the church so that the holy spirit can enter them directly.
He had also ordered them to eat grasses, carpet, swallow live snakes as well as ride on them like horses during services in the past.
JOIN OUR PULSE COMMUNITY!
Recommended articles
A/R: Police fraternity, Senior officers bid farewell to Police officer who died in fire with family
Here are ways to naturally enlarge the male organ
Court orders lady to pay $80,000 to man for dumping him after he paid her school fees
Kenya and Tanzania tear down 23 trade barriers hindering their commercial relationship
Uganda's State House allocates billions for brand new cars for the President and Vice President
Guest house boss shoots customer for complaining about malfunctioning TV
4 healthy questions to ask a new partner before having sex
Waiter almost ruined my date, he shouted 'pa pa paa' whilst another man took me out - Michy
East Africa continues to experience an impressive intra-trade growth trajectory