Eleven-day-old baby battling pneumonia in hospital stabbed in head with 12inch blade
The 11-day-old, who has not been named yet was sharing a room with an adult patient when the incident happened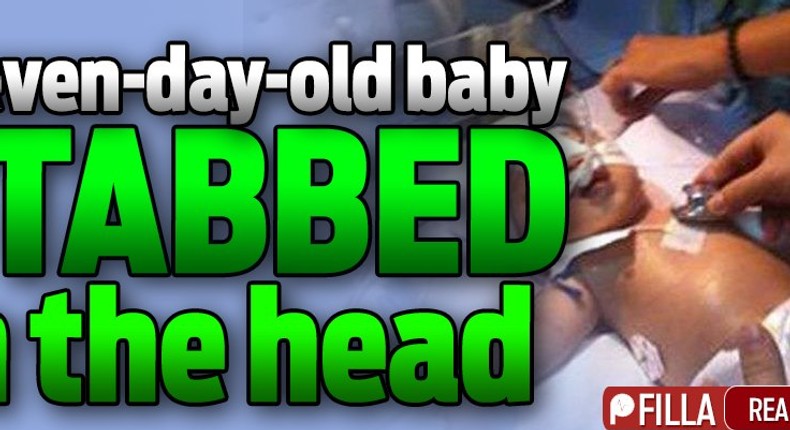 The 11-day-old was fighting for his life after the shocking attack that left the blade stuck 11cm into his brain as he slept in a hospital ward with his mother close-by.
Frantic doctors in Vietnam performed a life-saving operation to remove the massive knife from his head.
The horrific attack on the child, who has not yet been named, just missed his eye.
Mum, Vo Thi Hong Duyen, 32, described the moment she allegedly saw 51-year-old, Nguyen Thi Van, who was sharing a room with the pair, attack her baby.
She claimed she was woken at 3.40am by a noise in the room and saw a shadowy figure approach her bed, where she lay with her son.
She said: "She jumped at me and we struggled and I heard a scream. "I saw my baby crying and looked to see the knife in his face full of blood. When I started to cry, she ran away".
Mum Duyen said she saw Thi Van stab her baby with a 30cm knife in the head before she was grabbed by hospital staff.
The baby was moved from the Vinh Long hospital to Ho Chi Minh City Children's Hospital No1 where doctors performed a three-hour operation to save his life.
Dr Dao Trung Hieu, deputy director of the hospital, said: "Because of the dangerous location of the blade in the brain of the child, the new-born baby might have become paralysed, suffered respiratory failure, and even died when the knife was removed.
"The baby was stabbed in the left eye socket, through the right brain but the baby's eyeball has been left unscathed. However, the most worrying problem postoperative period is the risk of bleeding and an infection recurrence in the brain. The baby boy was born on July 28 and was attacked 11 days later".
Investigation is ongoing at the hospital.
JOIN OUR PULSE COMMUNITY!
Recommended articles
Top 10 African countries with the highest cost of electricity in 2023
Top 5 largest economies in East Africa ranked
NPP Parliamentary Primaries: Results so far
36-year-old painter wins GH¢6 million bet, flies in private jet to Accra to receive it
Top 10 African cities with the highest purchasing power
GES to revise first-year reopening date for SHS
Top 10 African countries leading in attracting and retaining talents
Captain Smart hasn't resigned - Onua TV denies earlier reports
Revise SHS freshmen reopen date to January - Parliament to GES