Watch Trevor Noah make his debut as host
Watch opening monologue of Trevor Noah, the new 'Daily Show' host, who made his debut on Monday night.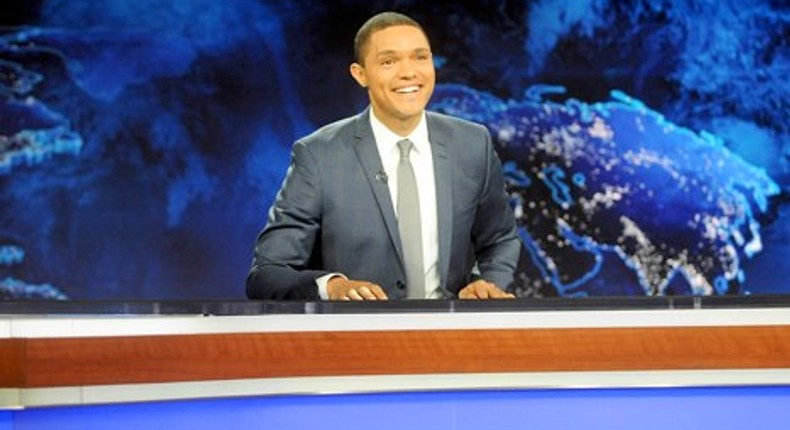 'The Daily Show' is back with new host Trevor Noah, who kicked off the show by reassuring viewers, saying ;
"Before we start I just want to say a few things," Noah started.
"This is surreal for me. I'm not going to lie, growing up in the dusty streets of South Africa I never dreamed that one day I would have, well, two things really: an indoor toilet and a job as host of The Daily Show. And now I have both. I'm quite comfortable with one of them."
Paying tribute to former host Jon Stewart, describing him as a political father, he said;
"The truth is now I'm in the chair and I can only assume that this is as strange for you as it is to me," Noah said Monday." Jon Stewart said.
He was often our voice, our refuge, and in many ways our political dad. And it's weird because dad has left. And now it feels like the family has a new stepdad and he's black, which is not ideal."
Noah also spoke on women rejecting the position;
"I also know many people have questions. For example, why isn't a woman hosting the show? Because surely it is about time.
"Well, Comedy Central did ask women to host and the women they asked turned the job down because they all had better things to do and clearly knew something I didn't.
"Also, why didn't they get an American host? Again, Comedy Central tried and they declined. Once more, a job Americans rejected is now being done by an immigrant," he said.
Comedian Kevin Hart was  the first guest on show which premiered on September 28, 2015 on Comedy Central.
Other guests for the premiere week include founder and CEO of Bumble, Whitney Wolfe, who would be on show on September 29, 2015, Governor Chris Christie for September 30 and musician Ryan Adams on October 1.
In March 2015, as a replacement for Jon Stewart, following his undefined
Noah made his debut as a contributor to the nightly satirical show in December 2014, becoming the first South African stand-up comedian to appear on the late night show.
Watch full monologue below;
JOIN OUR PULSE COMMUNITY!
Recommended articles
Hunger forced me to do some songs I'm not proud of - Ofori Amponsah
Jay Bahd is not Jesus Christ - Yaw Tog calls out Asaka Boys member over their split
Moffy creates banger out of Afropop and Jama blend as he drops party warmer track 'Joo'
Use social media for what is worth only - Sarkodie advises against cyberbullying
I went into hiding because I was fighting my label; it wasn't deliberate - Freda Rhymz
Sonnie Badu criticises absentee fathers, says they are 'useless'
'There's no hope in Ghana' - Edem on why young people are leaving
I joined #OccupyJulorbiHouse protest for my Ghanaian friends, I am Italian - Pappy Kojo
'Learn to mind your business' - Berla Mundi slams fan asking her to get married