9-year-boy needs plastic surgery after he was mauled by a dog
A 9-year-old boy needs plastic surgery after a neighbours dog bit him on his arm.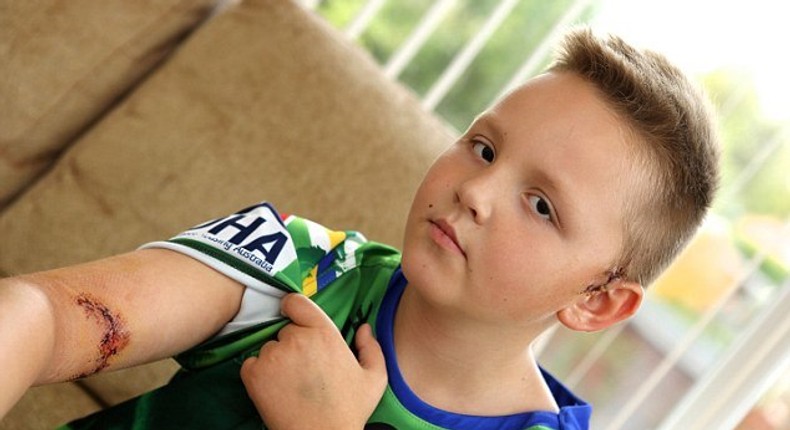 Rowan Pegg was playing near his home in Hoyland, South Yorkshire when the dog came running out from a neighbour's house and attacked him.
The animal bit him on the right arm and face, leaving him needing two nights in hospital.
Rowan's mother Alison, 37, said: 'The dog had never seen him before and it went for him.
'An adult came out and got the dog off Rowan and someone stayed with the dog to make sure it didn't go crazy while we waited for the ambulance.'
Rowan added: 'The dog was quite big and a brown colour. It jumped up and I put my arm out and it bit my arm and then my face. It all happened so fast it was a blur.
'It was bad timing and could have happened to anyone. I didn't know there was a dog there. It's not put me off dogs but I'm going to stay away from them for a while.'
Rowan's father, Chris, said he handled the attack very well and sung songs in hospital to take his mind off the pain.
The family said the strength and fitness Rowan has gained through playing rugby helped him cope with the incident.
He needed surgery and treatment from the plastics team at Sheffield Children's Hospital for his injuries.
The dog, which has since been put down, was owned by the son of a neighbouring family and escaped when they opened the door of the house.
JOIN OUR PULSE COMMUNITY!
Recommended articles
Video: Taxi driver returns fishmonger's ¢8k; Ghanaians want him rewarded for his integrity