Founder of Africa's first STEM school for girls named most influential black Briton
The Powerlist, which this year celebrates its 10th anniversary, was established to highlight the achievements of British people of African and Caribbean heritage.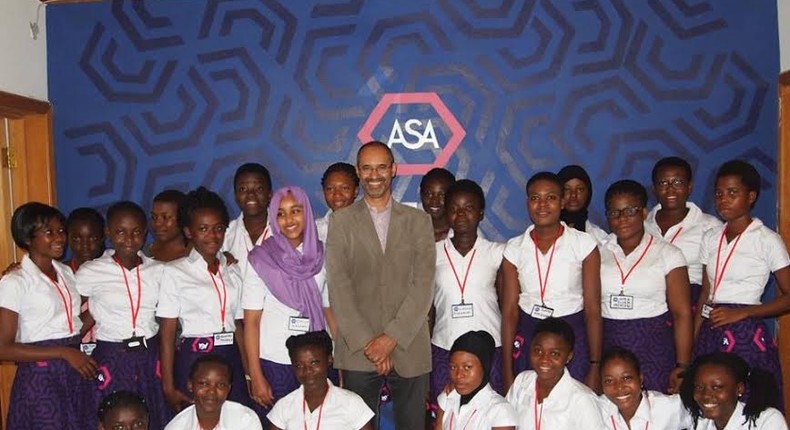 Tom Ilube, Founder of the trailblazing
The Powerlist, which this year celebrates its 10th anniversary, was established to highlight the achievements of British people of African and Caribbean heritage. Sponsored by EY, Lloyds Banking Group and Thomson Reuters, it honours incredible men and women across a wide range of industries including science, technology and the arts.
British-Nigerian Tom claimed the number one spot for his outstanding work in education where he has demonstrably impacted thousands of lives and for his success in launching several successful technology companies.
Philanthropist Tom set up the charity, African Gifted Foundation, to help transform the lives of hundreds of children on the continent.
This year he opened the African Science Academy (ASA), Africa's first girls only science and technology school, based in Ghana with young women scientists attending from six countries: Ghana, Nigeria, Ethiopia, Cameroon, Sierra Leone and Uganda. ASA has plans to grow to admitting over 200 students a year from across the continent. The academy is driving Africa's development by inspiring and unleashing the next generation of gifted scientists and engineers.
His work in education extends to the UK. Tom is the Chairman of ADA College, the newly opened National College for Digital Skills, Britain's first tech-only sixth form aiming to unleash the next generation of Mark Zuckerbergs and Jeff Bezos. He was the founding Chairman of Hammersmith Academy in London, which opened in September 2011, now one of the UK's most innovative technology schools.
The 53-year-old entrepreneur from London is Founder and CEO of Crossword Cybersecurity plc. He was part of the founding team of pioneering internet bank Egg where he was Chief Information Officer and he persuaded Sir Tim Berners Lee to serve as an adviser to his company Garlik.Tom founded Noddle.co.uk which has grown to over 2 million users since launch.
Reflecting on the achievement, Tom Ilube said: "Launching the African Science Academy is the highlight of all my work in education over the past decade. I am convinced that we have brilliant young women in African who have the potential to be tomorrow's world class scientists and engineers."
Efua Adabie, Headteacher of the African Science Academy said: "Many heroes go unnoticed. It is befitting that Tom Ilube has been recognized for his outstanding initiative and leadership that is changing the lives of so many."
Mayor of London Sadiq Khan said: "The Powerlist is a fantastic publication that celebrates the achievements and accomplishments of people of African and African Caribbean heritage in Britain.
It's vitally important that we continue to tell these stories of successful people from our black communities. By doing so, we can inspire the next generation to push through barriers, go after their dreams and reach for the top. We should never forget the power of positive role models.
I've seen time and time again the profound impact it can have when young people see high achievers who look like them and come from the same background. It spurs them on. It motivates them. And there is special moment when they realise that they too can succeed and fulfil their potential."
Priscilla Ababio, ASA student from Ghana, said: "Congratulations Tom. We ASA girls are all very happy for this achievement. Your dream, now a reality, has exposed us to true diversity and innovation. You are awesome."
JOIN OUR PULSE COMMUNITY!
Recommended articles
Rich Ghanaian kid gets police escort to buy a burger; the internet reacts
'Ghana is using Nigeria to build their team' - Reactions as Inaki Williams dumps Spain for Black Stars
Popular pastor gifts homeless veteran Nollywood actor Kenneth Aguba free accommodation
Jackline Mensah escapes death in fire disaster at home (VIDEO)
Can having a lot of s*x loosen the vagina? Here are all the myths and facts
Jackie Appiah rejected posting three flyers for GH₵40,000 – Movie Director
First-year student of Asesewa SHS returning from nightclub dies in accident
Paul Pogba teams up with Emmanuel Adebayor for charity game [Photos]
CAF Awards 2022: 4 players who have no business being nominated for CAF Player of the year