Princess Shyngle shows off enviable figure in tiny bikini
Ghana Based Gambian actress, Princess Shyngle is back at it again as she releases new teasing bikini photos.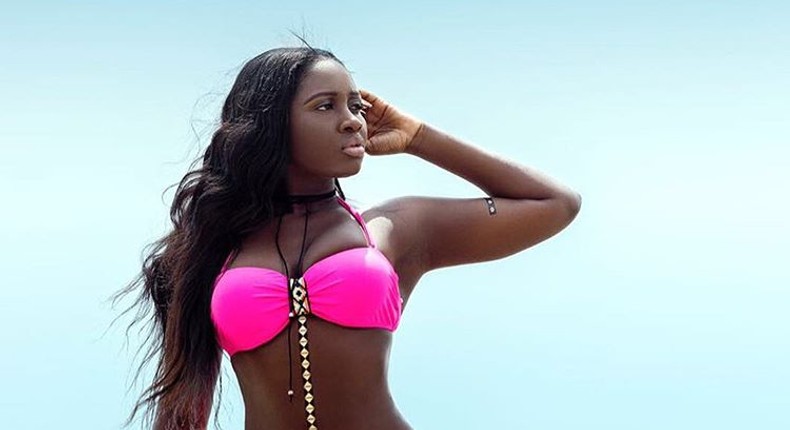 Princess Shyngle is starting off her week with near-naked bikini photos telling Ghanaians that she is not anyone's role model.
The Ghanaian based Gambian actress is never one to shy away from flashing too much flesh for the cameras as she shows off her incredible body in a skimpy bikini.
In a long Instagram post tagged along with her photos, she asked her followers to expect more daring bikini photos this year as she is ready to make money and have fun doing what she loves best.
"Please I'm not a "Role Model " .... I'm here to f*** ish up with my talent..... I am in an industry where you have to express yourself the best way you know how..... I'm here to make money and have fun doing what I was born to do.
It's either you accept me and my craziness or move on and look for some other female to be your role model .
Abeg So get use to 2017 being filled " bikini " photos and memorable moments of me or you just be that "role model " for your child or better yet make your mother your role model and not me".
Recommended articles
DIY Recipes: How to make Buttermilk cornbread
8 best types of heels for party wear
For men: 4 simple tips to get your woman to orgasm
Wedding guest? Jackie Appiah has the perfect outfit inspiration for the role
Lemon: 5 simple ways to use this citrus fruit for glowing, healthy skin
5 healthy topics to build stronger, happy relationship
5 things your sex life reveal about your relationship
Stylish corporate workwear looks to rock this week inspired by Salma Mumin
For Ladies: 7 must-do things before you put on makeup