Miley Cyrus suits up for Elle Magazine
"I was kind of embarrassed that I got paid money to shake my ass in a teddy bear costume,' she says, 'I should not be worth the amount I am while people live on the streets".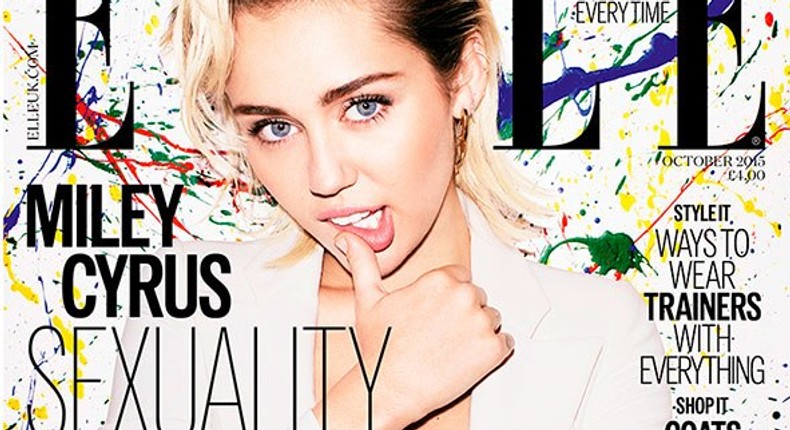 Pop star and LGBT activist, Miley Cyrus, is on the daring cover of ELLE Magazine October edition.
In the issue Miley Cyrus , 22, talks about her role as a gender activist and a politically engaged young woman, on a mission to make the world more tolerant, and gender and sexual identities less fixed.
Miley discusses why she decided to use her power, and popularity, to do something important by setting up her charity, The Happy Hippie Foundation.
As a provocateur she's acutely aware of how to command attention to get her voice heard, 'If you get your tits out, and they are all looking, then you can use that space to say something and get them to listen,' she continues later.
The controversial host of this weekend's VMAs, then goes on to discuss her opinions on gender, and relationships saying, "I'm very open about it  I'm pansexual. But I'm not in a relationship. I'm 22, I'm going on dates, but I change my style every two weeks, let alone who I'm with".
The cover is shot by Matt Irwin and styled by Alison Edmond Miley wears a white Emporio Armani suit.
JOIN OUR PULSE COMMUNITY!
Recommended articles
DIY Recipes: How to make the best Ghanaian Kuli-kuli
5 ways to naturally increase the size of your breasts
Beauty inspiration: 6 times MzVee mesmerized us with her beauty on the 'gram
Men release more stress during sex than women - Medical practitioner discloses
When do men stop producing sperm? Here's all you need to know
Ladies! 8 questions you must ask your gynaecologist before getting married
DIY Recipes: How to make Vegetable pancakes
#Monaat30: Best and worst dressed celebrities we saw at Hajia 4Real's party
How to make love: Does the difference in height of partners matter during sex?