Mexican Brown Rice casserole recipe
Highly nutritious food made in one saucepan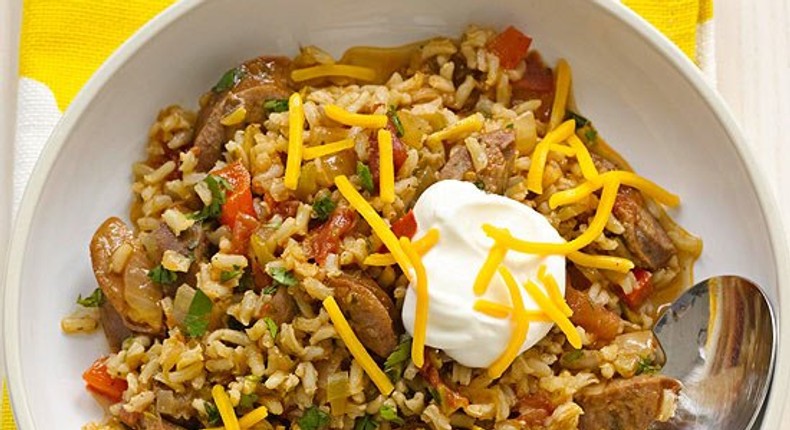 3 cups brown rice1 tbsp olive oil1 lb extra lean ground beef or turkey1 large onion, diced1 large orange bell pepper, diced3 large garlic cloves, grated 1 tsp sea salt1/2 tsp black pepper1 1/2 tbsp cumin powder1 tbsp paprika powder1 1/2 tbsp chili powder2 tbsp hot sauce1 (14-oz) can diced tomatoes 1 (14-oz) can kidney beans, drained and rinsed1/2 cup water (or chicken stock) 1/3 cup chopped cilantro, plus more for the top½-1 cup shredded cheddar cheeseOptional toppings:Tomatoes, avocado, sour cream, Greek yogurt, etc.How you make it:1. Cook the brown rice according to package directions, being careful NOT to over cook until mushy. Meanwhile: In a large nonstick skillet over medium-high, heat the olive oil and add in the meat, onions and peppers.
2. Cook until the meat is no longer pink and the onions start to become translucent, stirring often, about 5-8 minutes. Add in the garlic and cook for 1 minute, stirring often.
3. Season the meat with the salt, pepper, cumin, paprika and chili powders and cook for 2 minutes to develop flavor. Stir in the hot sauce, if using.
4. Dump in the tomatoes, beans and liquid and stir to mix well.
5. Cook for about 10-12 minutes to meld the flavors and to heat the beans. Taste and adjust flavors, if necessary. Meanwhile: preheat the oven to 350F.
6. When the oven is hot, dump the cooked rice and chopped cilantro into the meat mixture and mix thoroughly. Pour into a large casserole dish and top with cheese.
7. Bake for 15-20 minutes, or until the cheese and casserole is bubbling. Serve with more chopped cilantro on top and your favorite toppings.
JOIN OUR PULSE COMMUNITY!
Recommended articles
DIY Recipes: How to make Boiled Green Bananas
The best celebrity pictures on Instagram this week
10 trending hairstyles for brides-to-be
Ladies! These are 5 things you shouldn't say to your man during s*x
7 things men find attractive in women, according to science
Does swallowing semen make you fertile? Here's what research says
5 foods that can prevent erectile dysfunction
5 health risks of excessive masturbation on your body
DIY Recipes: How to make Watermelon-banana smoothie