Revamp your dinner with "Koobi" egg stew and cocoyam
Egg stew is a healthy and tasty recipe which can be eaten alongside a variety of options like yam, plantain and even rice.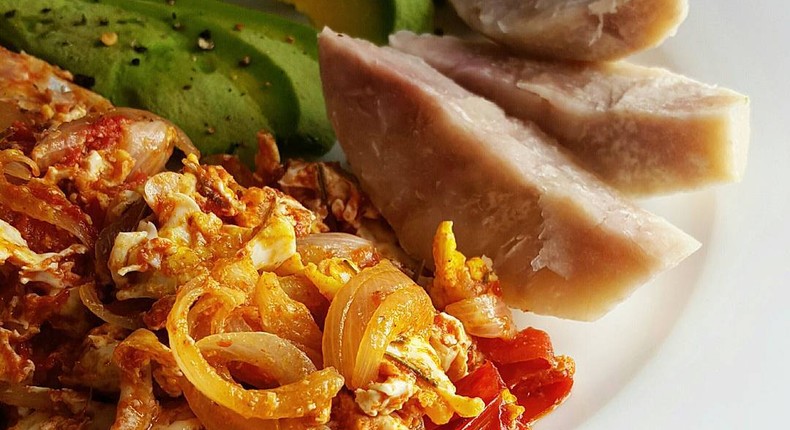 Chopped tomatoes
Sliced onions
Gloves of garlic minced
Salted tilapia
Pepper blended
Cooking oil
All purpose spices
Eggs
Salt
Cocoyam
1. Cut salted tilapia into desirable sizes wash and soak in water for 5 minutes to remove the salt.
2. Heat onion and garlic in oil over medium heat and stir.
3. Add blended pepper, tomatoes and salted tilapia.
4. Cook to cook for 4 - 6 minutes.
5. Taste for salt and add spices.
6. Crack eggs in a bowl and add to the stew.
7. Allow to simmer and stir.
8. Peel the cocoyam and cut into two equal halves.
9. Wash thoroughly and put cocoyam in a big saucepan.
10. Boil cocoyam with enough water and add salt.
11. Check for 7 minutes if its soft, drain off the water.
12. Serve koobi stew with cocoyam.
Recommended articles
DIY Recipes: How to make Ga kenkey with sauce and fried fish
10 trending kente styles that took over the 'gram in February
For couples: 5 best tips to have better sex and intimacy
Chatrooms and how they may be the most fun, or most dangerous places
4 common foods that are healthy for the skin
For women: 3 common infections you could contract during menstruation, remedies
DIY Recipes: How to make rice porridge
Penelope Adinku: Meet Ghanaian female surgeon who just set an incredible feat
Pull-out method during sex? Here's how it may fail, risks