How to prepare fish sauce and boiled yam
Pulse daily DIY recipe teaches prospective chefs how to prepare healthy, Ghanaian dishes in a simple way.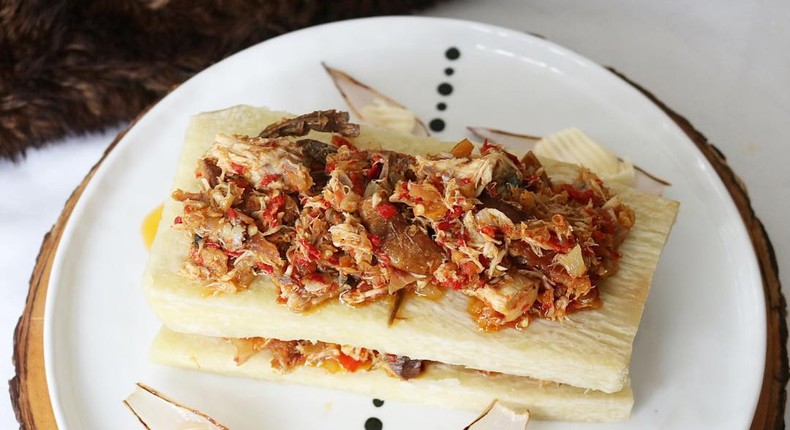 500g White fish like Tilapia
Pepper sauce
1 Tablespoon fish seasoning
Salt
2 Tablespoons oil
Yam
Onions
Clean, wash and gently pat dry the fish using paper towels.
Next season the fish with salt, pepper and fish seasoning. Put the fish in an oven proof dish and drizzle with oil.
Grill the fish on the highest setting (about 3 minutes on each side) until just golden brown.
Once cool to the touch, flake the fish and remove any bones.
In a saucepan, cook heat oil and add the pepper sauce. Let it simmer for 3-7 minutes.
Carefully add in the grilled fish flakes and simmer on a medium heat for 5-10 minutes until the sauce thickens. Once desired consistency is achieved, take the sauce off the heat and set aside
Serve with boiled yam.
JOIN OUR PULSE COMMUNITY!
Recommended articles
DIY Recipes: How to make Beef sauce
How to dress stylishly for your birthday inspired by songstress Fantana
Dear men, here's how to wash your genitals
7 weird things men find attractive in women
Style inspiration: Joselyn Dumas is a real 'Glamour Girl' in this black outfit
For women: Here's how to make a rich, classy man fall in love with you
Azoospermia: Here's what it means to produce semen without sperm and remedies
DIY Recipes: How to make Avocado smoothie
Nana Ama McBrown makes massive come back on the screen in glamourous outfits