Police say hoverboards are illegal, send sales surging out of control
More people than ever are buying the must-have Christmas gadget despite not being able to ride it in public.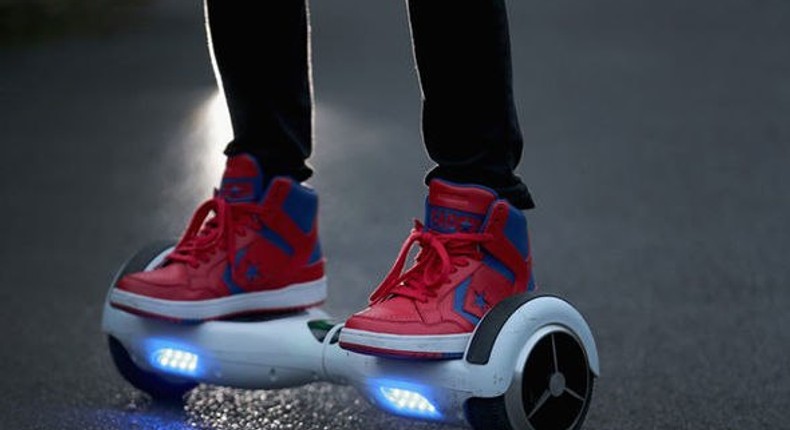 Despite a UK-wide ban, the self-balancing scooter – or hoverboard – is set to be the Christmas must-have gadget.
One electrical superstore has reported surging sales following newly-published guidance from the Crown Prosecution Service.
UK retailer ApplicancesDirect.co.uk saw sales rise by 215% in the wake of the CPS announcement.
The increased focus on the legality of riding hoverboards in public has fuelled popularity of the vehicle.
It doesn't matter whether you're young or old, the temptation to zip down the street on the tech toy is certainly compelling.
But you might want to think twice before parting with your cash, as current legislation means you won't be going very far.
As it stands hoverboards are not considered road legal and must instead only be used on private property.
The CPS says this is because hoverboards are powered by an electric motor and can't be pedalled. This distinguishes them from bicycles and the laws that govern their use.
So unless your home boasts a nice strip of green space, or you happen to have access to your own carpark, your hoverboard might actually spend more time in its box.
JOIN OUR PULSE COMMUNITY!
Recommended articles
DIY Recipes: How to make Banana pudding
Birthday girl: 5 times Sandra Ankobiah slayed lavishly on the 'gram
This is why Ghanaian wedding dresses are breaking banks
4 tips to deal with stress on your big day
Dear men, here are 5 things women want you to do in bed more often
Sperm colour: Here's why your semen colour changes and what it means
DIY Recipes: How to make Lemon rice
Sika Osei's style moments we absolutely fell in love with on the red carpet
Here are 5 things no one tells you about sleeping with your bestie