New 2016 model has a safety feature! [VIDEO]
Tesla's new model comes with a really cool safety feature, find out what it is.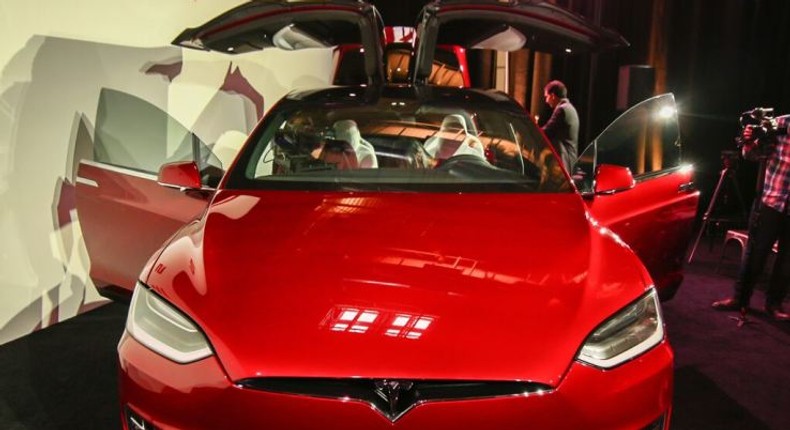 Tesla is seriously trying to be the best in the car making business.
2016 Model X, Tesla's first crossover utility vehicle comes with incredible safety features like a bio weapon defense air mode, which "gives you hospital level air quality" inside the vehicle.
According to Elon Musk, Tesla boss, this feature, available via a button on the dash display, works by pumping the Model X's HEPA air filter to maximum level, then removing toxins from biological weapons.
However, reports from the unveiling say that Elon did not stress on this feature, rather he made some jokes concerning the ongoing Volkswagen emissions scandal.
Other cool facts about Tesla's crossover vehicle include the ability to go from 0 to 60 miles per hour, "falcon-wing" doors which a futuristic vibe, and seven seats.
Although, it was unveiled today, it is not available yet.
However, interested buyers can put down a $5,000 payment in order to reserve this electric SUV from Tesla's online store.
Watch the official unveiling held at Tesla's Fremont factory where Elon reveals more details in the video below.
JOIN OUR PULSE COMMUNITY!
Recommended articles
Penis fracture: Here's why the penis breaks and how to treat it
DIY Recipe: How to make Spicy corn dough porridge
Women who have less sex could have early menopause, study finds
How to ask for sex from your spouse
Selasie Mettle: Joe Mettle's wife oozes elegance in baby bump photo; shares her good news
Ladies, here are 5 ways to pamper your man
4 ways to bring back your sexiness after giving birth
5 terrible things you should never say to a woman you love
Style coach: All the times Ms Nancy inspired women to dress better