Abject showing in Maths and English, as WAEC releases WASSCE results
At least 598 candidates who sat in the 2016 West African Senior Secondary Certificate Examination (WASSCE) had their "entire results cancelled," a statement signed by Agnes Teye-Cudjoe, Head of Public Affairs at WAEC, said.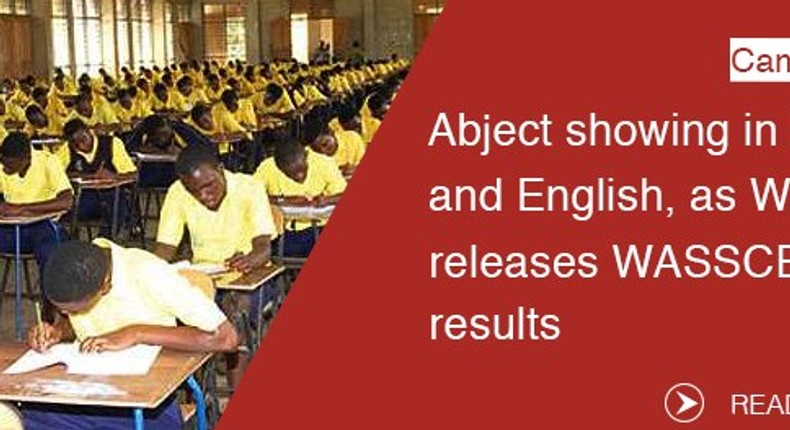 The West African Examinations Council (WAEC) has released provisional results for the 2016 West Africa Senior School Certificate Examination (WASSCE).
The statement indicated that 1,576 candidates had their subject results cancelled while some 13 candidates who had their entire results cancelled have also been "barred from taking any of the Council's examinations for two years mainly for impersonation during the examination".
"With the aid of the Item Differentia Profile (IDP) software; 2,293 candidates who were identified to have cheated in the following core subjects: English Language, Mathematics and Integrated Science have had their relevant subject results cancelled. The software did not detect any cheating in Social Studies. The IDP software was introduced to enable the Council detect cheating in the objective tests which hitherto, went largely unnoticed.
"Additionally, the entire results of candidates presented by 85 schools have been withheld whilst investigations into alleged cases of mass cheating are being conducted. The withheld results of candidates will be cancelled if found culpable or released if otherwise," the statement added.
WAEC further indicated that a total of 125,065 students obtained A1 to C6 in English Language, which is 53.19%, 59,725 (25.40%) obtained D7-E8 whilst 46,595 (19.82%) had F9.
The statement said for Mathematics, 77,108 (32.83%) obtained A1-C6; 65,007 (27.68%) obtained D7-E8 whilst 89,477 (38.10%) had F9.
About 113,933 students obtained A1-C6 in Integrated Science which is 48.48%, 75,938 (32.32%) obtained D7-E8 whilst 42,519 (18.09%) had F9, WAEC added.
BlueCrest College Ghana has offerings in certificate and diploma programmes, undergraduate, as well as postgraduate degrees in Information Technology, Business Administration, Mass Communication, Fashion and Design. Visithttp://register.bluecrest.edu.gh for more information and to apply
This article was commissioned by BlueCrest College Ghana.
JOIN OUR PULSE COMMUNITY!
Recommended articles
Nurses and midwives also deserve cost of living allowance – UPNMG
Akufo-Addo cuts sod for €500 million Manso to Huni Valley railway line
6 Nigerian lawmakers injured, cars damaged after armed thugs invaded guest house
Meet Alfred Ababio Kumi, a true Ghanaian leader and pace setter
Man hired to kill Okada rider reports himself to police, says he 'never got the cash'
Market women can even manage Ghana's economy better than Ofori-Atta – Dr. Amoako Baah
Dishonest Akufo Addo surrounds himself with only praise singers – Dr. Amoako Baah
25 years after marrying world's ugliest man, having 8 kids, woman speaks (video)
E-levy will not be cancelled – Yaw Buaben Asamoa assures Ghanaians