Automaker's celebrity spokesman is Dwayne 'The Rock' Johnson!
Dwayne 'The Rock' Johnson is the new celebrity spokesman for Ford.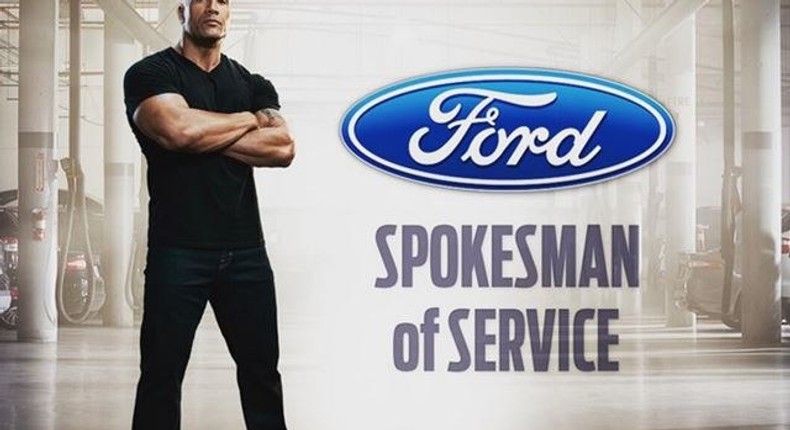 Dwayne "The Rock" Johnson has been announced as the celebrity spokesman for Ford Service.
This makes The Rock the new leader of "The Specialists," the people who work at Ford dealerships.
This makes perfect sense due to the actor's love for Fords.
Last week, the Rock announced the news via Instagram while sharing the details of his his love affair with Ford.
"Excited to be in partnership with @FORD as their official #SpokesmanOfService. In my garage I own three FORD vehicles (F-150 is my baby) but my relationship with them began when I was 15yrs old and bought a classic blue '77 Thunderbird as my first car for $40 bucks (true story). I didn't even have money to put gas in it, but it was all mine and I've been a FORD man ever since. Representing their Service Department and the hard working FORD individuals committed to taking care of their customers echoes one of my core enterprise beliefs, "Always take care of the audience" and whether it's in a movie theater or behind the wheel, taking care of the people is what matters most. #BigPartnership #SpokesmanOfService #WeGetTheJobDone #AndGodBlessBlueThunderbirdsFor40Bucks"
Based on The Rock's story, do you think he is the best person for this position?
Let us know by taking the poll above.
JOIN OUR PULSE COMMUNITY!
Recommended articles
Second tier of IMF relief expected next week – Ken Ofori Atta
39th National Farmers' Day celebration holds in Tarkwa
Cash withdrawals to be pegged at GHC1,000 starting Dec, 1 - Momo agents
GES to revise first-year reopening date for SHS
Insights into farming costs in Ghana on Farmers' Day
2024 budget approval postponed as Majority boycotts Parliament
Only 3 majority MPs found in parliament when sitting resumed on 2024 budget approval
I'll contest in the NPP parliamentary primaries for Dome Kwabenya – Mike Ocquaye Jnr
Court rejects Kan Dapaah's bid for default judgment in defamation case against Oliver