Italian PM assures continued support to OTCP gas project
He said this when he addressed the Parliament on Tuesday 2 February, 2016 following concerns that ENI might cut back investments.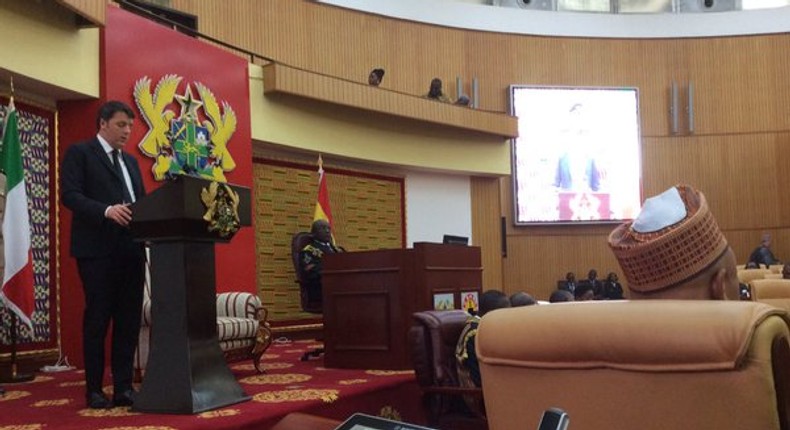 Italian PM assures continued support to OTCP gas project
Italian Prime Minister, Matteo Renzi has given assurance that the $7 billion Offshore Cape Three Points (OCTP) Sankofa Gas Project sponsored by Italian oil firm ENI will continue despite tumbling crude oil prices.
Finland business delegation in Ghana to explore opportunities
A twenty five member business delegation from Finland are in Ghana to deepen trade and investment ties and strengthen the existing political relationship between the two countries.
The areas of interest include the Information, Communication and Technology (ICT), Energy, Forestry, Education, Health and Agricultural sectors.
The Finns business delegation is led by Mr Matti Anttonen, the Under–Secretary of State at the Ministry of Foreign Affairs.
We go to the currency market now where
Currency                      Buying                         Selling
Dollar                             3.83                             4.13
Pound Sterling               5.50                             5.80
Euro                              4.18                             4.48
To updates from the stock exchange today
Fun Milk Ghana was the biggest loser of the day, dropping 3p to close at 7.35p....whereas MECHANICAL Lloyd Company Limited recorded the biggest gains, gaining 2p to close at 0.21p.
Recommended articles
NDC Flagbearership Primaries: John Mahama to be vetted today
Ministerial Approvals: My father would have made all the NDC MPs swear on Antoa – Zanetor Rawlings
'Traitors, Judases and Esaus' – Ablakwa blasts NDC MPs who approved Akufo-Addo's ministers
I intend to do work that will increase investment in Africa - Kamala Harris
US Vice President Kamala Harris arrives in Ghana
Police reroute traffic in Accra and Cape Coast from March 26 to 29
Treason felony suspect, Dr. Mac Palm dies
Obuasi Prisons commander, DDP Aidoo retires
We can work together to achieve our goal - Ato Forson