Pictures of 2-headed strange animal goes viral
Pictures of a strange 2-headed animal that looks like a calf goes viral.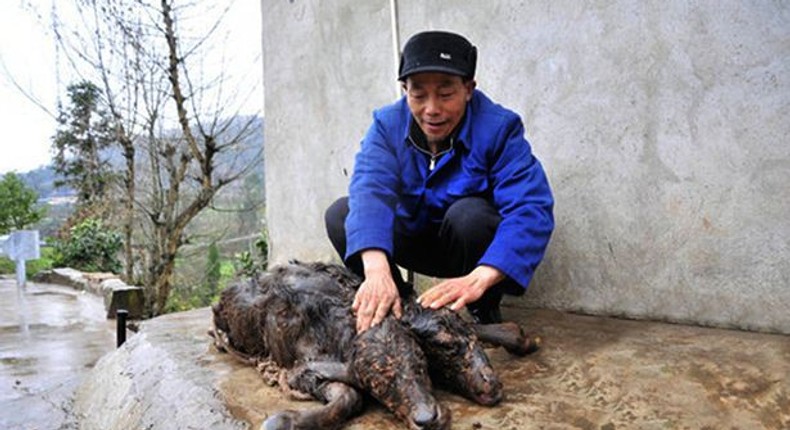 The animal was born from a cow who has given birth to three healthy calves in the past.
Farmer Gan Yuanhua said: "I heard the cow shuffling around and making odd noises in the shed, and I knew she was about to give birth."
He said he initially thought the cow had given birth to twins when he saw the two heads and did not realise immediately that it was a mutation.
The cow, who seemed to be unaffected by the fact that it was deformed, reportedly died shortly after birth.
Xu Kaiwen, a local vet who has been practicing for 30 years, said the calf's condition was caused by a genetic mutation which has yet to be identified.
The unusual condition of being born with two heads is called polycephaly and occurs in both animals and humans.
In the majority of cases, animals and humans with polycephaly die soon after birth.
Recommended articles
NDC reasserts its position on the need for Akufo Addo to downsize gov't
Six perish in gory Akuse accident
Mahama expresses disappointment in minority for approving ministers
Eschew bitterness and support the new leadership - Gyampo slams NDC MP's
Justices George Koomson and Ernest Gaewu approved by parliament as Supreme Court judges
KT Hammond, Bryan and other new ministers approved by parliament (How MPs voted)
NDC MPs reject two justices nominated to the Supreme Court
Parliament suspends sitting over disagreements on how to vote for Supreme Court and Ministerial nominees
There are areas in Ashaiman Police can't go and arrest criminals — Ghana Armed Forces