Today's Front Pages
Here are today's newspaper headlines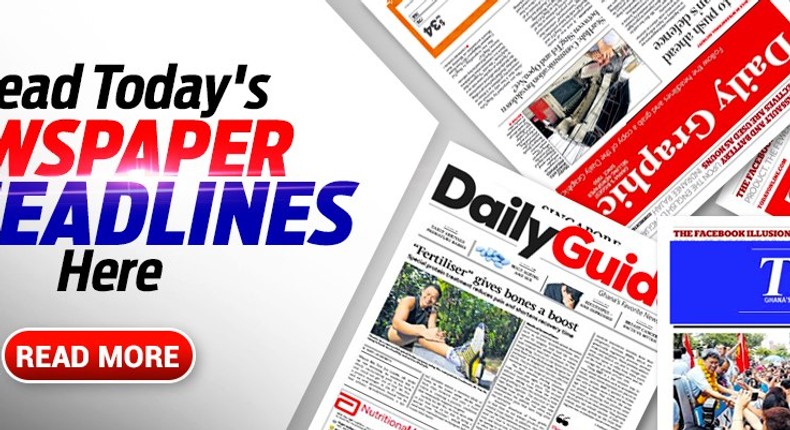 NPP SUSPENDS 4 CHAIRMEN OVER AFOKO DEMO
Four constituency chairmen of the New Patriotic Party in the Ashanti Region have been suspended for protesting against the party's National Executive Committee's decision to suspend the party's National Chairman, Paul Afoko.
GOVERNMENT BLOWS $40M ON DICTIONARIES
The Ministry of Education is reportedly entering into a $40 million contract which sources say looks bizarre and dodgy.
The governing National Democratic Congress has reportedly sacked two leading members from the party for misconduct.
DECISION ON VOTERS REGISTER LIES WITH EC – MAHAMA
President John Mahama has assured the New Patriotic Party of undue belligerence in the disputed issue of the national voters register.
EMERGENCY POWER BADGE TO ARRIVE IN NOVEMBER
The Karpower badge which is expected to significantly add to the country's electricity supply and ease the current energy crisis would finally arrive in Ghana on November 20 as it has finally started its journey by sea to Ghana.
The Ghana Revenue Authority has called the bluff of the National Communication Authority after the telecoms regulator had directed Subah Infosolutions to stop its monitoring of telco's revenue by Thursday, 12 November.
MAHAMA WANTS MORE FROM MPS AS JOB 600 OPENS
President John Mahama says offering a conducive and enabling environment for Member of Parliament to work effectively in the country's interest was the motivation behind the refurbishment of the new State House Tower Block also known as Job 600.
BOG DOUBLES CAPITAL REQUIREMENT FOR BANKS
The Bank of Ghana has increased the capital requirement of commercial banks in the country from 60 million cedis to 120 million cedis to strengthen them against risks.
GOVERNMENT CLEARING ECG DEBT – MIDA BOSS
Government is on track at clearing all debt owed the Electricity Company of Ghana, as part of conditions required to release the 489 million dollars under the Millennium Challenge Account, compact two.
JOIN OUR PULSE COMMUNITY!
Recommended articles
Jesus Ahuofe to reappear in court today over fake Shatta Wale death prophecy
3 arrested in Takoradi for faking a kidnapping incident
Tamale chief lauds McDan for bringing dev't to the north
'The Benz has been impounded' - Ghana Police gives details on arrested stunt driver (VIDEO)
Government bans use of tricycles on highways
Benz driver who drifted his car in traffic arrested by Ghana Police (VIDEO)
'Akufo-Addo has deepened presidential accountability with regular radio interviews' - Adom Otchere (Watch)
Open your eyes, Akufo-Addo's record is unmatched – NPP tells Oti chief
Akufo-Addo launches 'Clean Your Frontage' campaign towards making Accra cleanest city in Africa