Eden Hazard's 'big buttocks' make him a dangerous player – Yaya Toure
Former Ivory Coast and Manchester City midfielder Yaya Toure says Eden Hazard's big bum makes it difficult for opponents to dispossess him off the ball.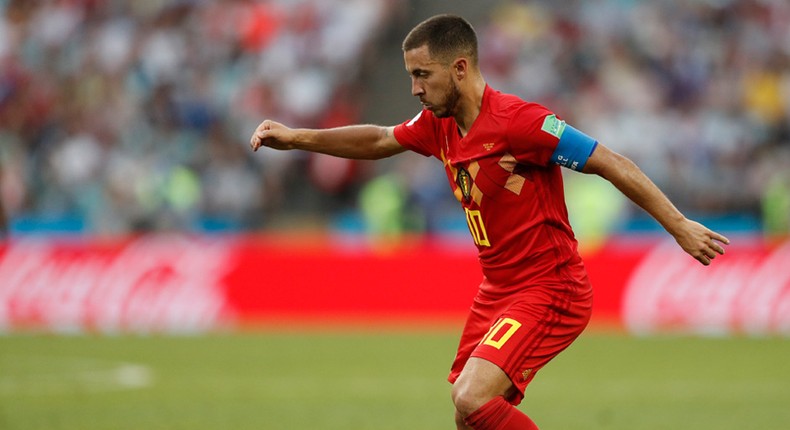 The 38-year-old believes the Real Madrid star often uses his derriere to block opponents from taking the ball from him.
Writing in his column for The Athletic, Toure, who is currently the assistant manager for FK Akhmat, said Hazard's big bum makes him a dangerous player.
"It has almost become a joke how big his bum is, but it is very important to how he plays football," he wrote.
"Hazard is so dangerous that when the ball comes to him, he has maybe less than five seconds before the opposition is on him - I know from my time at City, you want to limit his time on the ball.
"When the ball arrives at Hazard, he can already sense the opponent coming towards him, so he waits until the last moment and uses his bum to block them."
Explaining his point further, the four-time African Footballer of the Year said modern wingers use their bum a lot to keep the ball under their control.
He was, however, quick to add that no one does it better than Hazard, who is currently with Belgium at Euro 2020.
AFP
"It pushes the opponent away - almost like a punch - and then, when he has opened up that space between him and the defender, he will power away and start the attack," Toure noted.
"Other wide players use their bums this way, such as Antoine Griezmann for France, and you might see Luis Suarez and Sergio Aguero use this at the Copa America, but there is no one better at it than Eden Hazard.
"The way he can control the ball after using his bum, the way he uses his bum and his body and his hips to protect the ball when defenders run at him, the way he can turn in any direction turn after the impact… it is unbelievable," he added.
Hazard was blighted by several injuries in the just-ended season, but the 30-year-old is back and aiming to help Belgium with Euro 2020.
The Real Madrid star played his first full 90 minutes at the Tournament as his country defeated Finland 2-0 on Monday.
More from category
Give Kurt Okraku 16 years to finish his projects – Charles Taylor

I met Alex Ferguson and he was excited about everything Ghana – Adom-Otchere

GFA defends Inaki Williams amid claims of lack of commitment to Black Stars
Recommended articles
Give Kurt Okraku 16 years to finish his projects – Charles Taylor
Ghana Education Service makes U-turn; suspends tug of war, pillow fight in schools
I met Alex Ferguson and he was excited about everything Ghana – Adom-Otchere
GFA defends Inaki Williams amid claims of lack of commitment to Black Stars
My father passed away the same week I was dropped from World Cup – Joseph Paintsil
Black Stars players react as Mohammed Salisu holidays with lady in Greece
Afena-Gyan out, Kamaldeen in as Ghana names provisional squad for U23 AFCON
The ripple effect: How credit card bans impact the online gambling ecosystem
GFA proposes 3 terms for president with 2 vice presidents