'I haven't been the same since my wife of 17 years cheated' – Totti
Former Italy international Francesco Totti has revealed that he fell into depression after he found out his wife, whom he had been married to for 17 years, was cheating on him.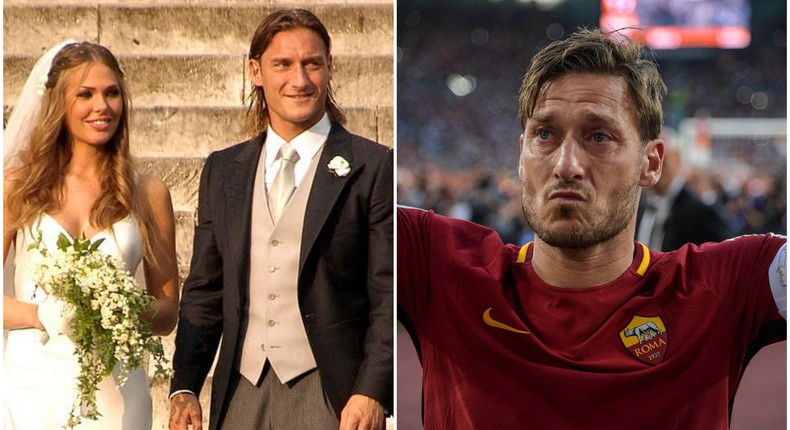 The Roma legend was married to Ilary Blasi but their marriage collapsed after the footballer announced his retirement.
Totti and Blasi tied the knot in 2005 and are blessed with three children, but the pair decided to split in July last year.
The 46-year-old said he struggled to cope after his retirement and further revealed that his father died after contracting Coronavirus.
According to Totti, he hasn't been himself since Covid killed his father and his marriage also collapsed after his wife cheated.
"I have lived through a difficult period, first because I stopped playing and then my father died due to Covid," Totti said, as quoted by Marca.
"I also had a strong Covid (illness) for 15 days. However, my wife, when I needed her most, was not there. It is not true that I was the first to betray. I said I was not going to speak and I did not, but I have read too many hoaxes in recent weeks. Some have even made my children suffer."
He added: "In September of last year the rumours began to reach me: "look, Ilary has another one. Indeed, more than one.
"I had never done it in twenty years, nor had she ever done it with me. But when I received warnings from different people, whom I trust, I began to suspect.
"I looked at her cell phone and I saw that there was a third person, who acted as an intermediary between Ilary and another. Here was the evidence (of the affair). The facts. And that led me to depression. I could no longer pretend that nothing was happening, but it wasn't me anymore, it was someone else. I got out thanks to Noemi."
Totti retired in 2017 following a trophy-laden career that lasted over two decades.
More from category
I dance as a way to deal with my grief – Christian Atsu's widow reacts to criticism

I almost died while playing for Black Stars – Joetex Frimpong

Sevilla v Roma: 1xBet analyzes the Europa League final match
Recommended articles
I dance as a way to deal with my grief – Christian Atsu's widow reacts to criticism
I no longer trust my son Isaac Dogboe – Paul Dogboe
I almost died while playing for Black Stars – Joetex Frimpong
All set for African Open Powerlifting Championship in Accra
Sammi Awuku cuts sod for ultramodern basketball & volleyball court in Okuapeman school
Sevilla v Roma: 1xBet analyzes the Europa League final match
Ernest Nuamah gets debut Black Stars call-up in Hughton's squad for Madagascar clash
The reception Ghanaians gave me influenced my Black Stars switch – Tariq Lamptey
Chris Hughton to name Black Stars squad for Madagascar clash on May 31