Here are winners of the Ballon d'or since 1956
The Ballon d'or which has seen several players win the award since 1956 was first won by Englishman Stanley Matthews.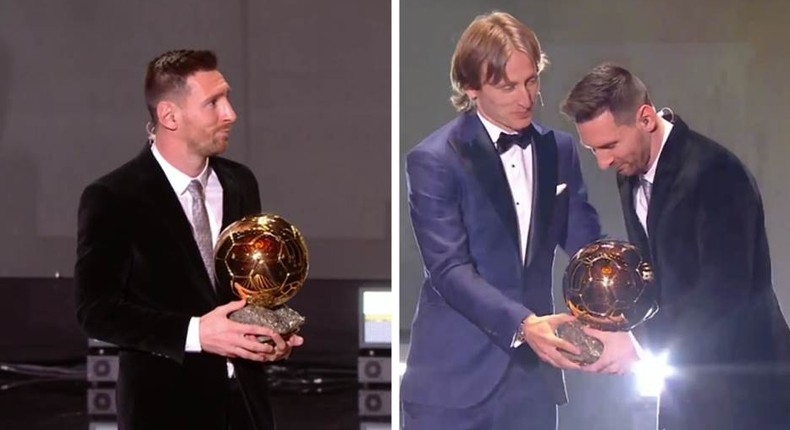 The award organised by the French Football Magazine has gone through different phases since 1956.
From 1956 to 1994 only European players plying their trade in Europe were eligible for the award, but the format was changed to include non-Europeans. George Oppong-Weah from Liberia became the first non-European to be crowned winner of the Ballon d'or in a year that saw him win the FIFA Player of the Year and the African Footballer of the Year as well.
Then in 2007, any player in the world became eligible. From 2009 until 2015 the award was merged with the FIFA player of the year to create the FIFA Ballon d'Or.
In 2016, France Football announced that their partnership with FIFA had come to an end and that they would revive the Ballon d'Or award, the 2019 edition became the 64th award.
Lionel Messi won the 2019 edition of the Ballon d'Or, making him the most successful player in the award's history- six haul.
Below is the full list of past winners
year player Nationality club
2019 Lionel Messi Argentina Barcelona
2018 Luka Modric Croatia Real Madrid
2017 Cristiano Ronaldo Portugal Real Madrid
2016 Cristiano Ronaldo Portugal Real Madrid
2015 Lionel Messi Argentina Barcelona
2014 Cristiano Ronaldo Portugal Real Madrid
2013 Cristiano Ronaldo Portugal Real Madrid
2012 Lionel Messi Argentina Barcelona
2011 Lionel Messi Argentina Barcelona
2010 Lionel Messi Argentina Barcelona
2009 Lionel Messi Argentina Barcelona
2008 Cristiano Ronaldo Portugal Manchester United
2006 Fabio Cannavaro Italy Real Madrid
2005 Ronaldinho Brazil Barcelona
2004 Andriy Shevchenko Ukrain Milan
2003 Pavel Nedvěd Czech Republic Juventus
2002 Ronaldo Brazil Real Madrid
2001 Michael Owen England Liverpool
2000 Luís Figo Portugal Real Madrid
1999 Rivaldo Brazil Barcelona
1998 Zinedine Zidane France Juventus
1997 Ronaldo Brazil Internazionale
1996 Matthias Sammer Germany Borussia Dortmund
1995 George Weah Liberia Milan
1994 Hristo Stoichkov Bulgaria Barcelona
1993 Roberto Baggio Italy Juventus
1992 Marco van Basten Netherlands Milan
1991 Jean-Pierre Papin France Marseille
1990 Lothar Matthäus Germany Internazionale
1989 Marco van Basten Netherlands Milan
1988 Marco van Basten Netherlands Milan
1987 Ruud Gullit Netherlands Milan
1986 Igor Belanov Soviet Union Dynamo Kyiv
1985 Michel Platini France Juventus
1984 Michel Platini France Juventus
1983 Michel Platini France Juventus
1982 Paolo Rossi Italy Juventus
1981 Karl-Heinz Rummenigge West Germany Bayern Munich
1980 Karl-Heinz Rummenigge West Germany Bayern Munich
1979 Kevin Keegan England Hamburg
1978 Kevin Keegan England Hamburg
1977 Allan Simonsen Denmark Borussia M"nchengladbach
1976 Franz Beckenbauer West Germany Bayern Munich
1975 Oleg Blokhin Soviet Union Dynamo Kyiv
1974 Johan Cruyff Netherlands Barcelona
1973 Johan Cruyff Netherlands Barcelona
1972 Franz Beckenbauer West Germany Bayern Munich
1971 Johan Cruyff Netherlands Ajax
1970 Gerd Müller West Germany Bayern Munich
1969 Gianni Rivera Italy Milan
1968 George Best Northern Ireland Manchester United
1967 Flórián Albert Hungary Ferencv rosi TC
1966 Bobby Charlton England Manchester United
1965 Eusébio Portugal Benfica
1964 Denis Law Scotland Manchester United
1963 Lev Yashin Soviet Union Dynamo Moscow
1962 Josef Masopust Czechoslovakia Dukla Prague
1961 Omar Sívori Italy Juventus
1960 Luis Suárez Spain Barcelona
1959 Alfredo Di Stéfano Spain Real Madrid
1958 Raymond Kopa France Real Madrid
1957 Alfredo Di Stéfano Spain Real Madrid
1956 Stanley Matthews England Blackpool
More from category
Black Stars need to be more clinical – Chris Hughton

'Whether I start or come from the bench, I just want to be effective' – Semenyo

Video: Pitch invader taken away by Police during Ghana vs Angola game
Recommended articles
Morocco houses six countries for AFCON qualifiers
Black Stars need to be more clinical – Chris Hughton
'Whether I start or come from the bench, I just want to be effective' – Semenyo
Video: Pitch invader taken away by Police during Ghana vs Angola game
'These are difficult decisions' – Chris Hughton defends decision to drop Andre Ayew
'He finally played like the Arsenal version' – Ghanaians praise Thomas Partey after Angola win
Ghana 1-0 Angola: Late Antoine Semenyo goal hands Chris Hughton winning start
Thomas Partey captains Ghana against Angola in Andre Ayew's absence
Kudus in, Andre Ayew out as Chris Hughton names Ghana's starting line-up against Angola