5 Reasons to choose Web4Africa as a Web Hosting company in Ghana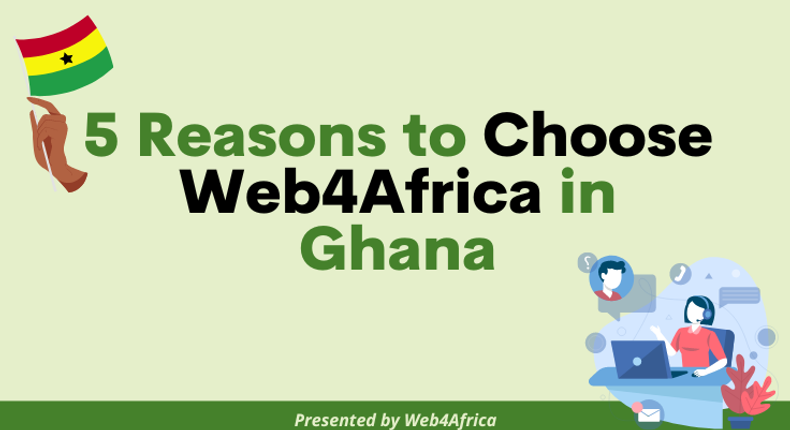 Here are five reasons why you should choose Web4Africa as your web hosting provider:
Reliability: Web4Africa has a strong track record of uptime and reliability. They have multiple servers in different locations, so you can be confident that your website will be online and accessible to your visitors all the time. Additionally, they have a team of expert technicians to troubleshoot any issues that may arise.
Affordable pricing: Web4Africa offers competitive pricing for its web hosting services, making it an affordable option for businesses and individuals in Ghana. They also offer flexible payment plans and discounts for annual payments, so you can choose the plan that best fits your budget and needs.
Wide range of hosting options: Whether you need shared hosting, VPS Hosting, or dedicated servers, Web4Africa has a hosting solution that will meet your needs. They also offer various add-on services, such as SSL certificates, website builders, and domain registration, so you can customize your hosting package to fit your specific requirements.
Excellent customer support: Web4Africa places a high emphasis on customer satisfaction and offers 24/7 support to its clients. Their team of knowledgeable and friendly customer support representatives are available to assist you with any questions or issues you may have.
Responsive and mobile-friendly: In today's digital age, your website needs to be accessible on all devices, including smartphones and tablets. Web4Africa ensures that its hosting plans are optimized for mobile viewing, so you can reach a wider audience and provide a better user experience for your visitors.
In summary, Web4Africa is a trusted and reliable web hosting company in Ghana that offers affordable pricing, a wide range of hosting options, excellent customer support, and responsive and mobile-friendly services.
If you need a web hosting provider in Ghana, consider Web4Africa for all of your hosting needs.
Established in 2002, Web4Africa is a leading African Hosting company and ICANN Accredited Domain Name Registrar offering Web Hosting, Virtual Servers, WordPress Hosting, SSL Certificates and Domain Names to clients worldwide.
Web4Africa offers world-class hosting from data centres across Ghana, Nigeria, Kenya, and South Africa.
#FeaturedPost #FeatureByWeb4Africa
Recommended articles
Interest rates to go up as BoG increases policy rate to 28%
Fuel prices to go up by 7%-13% from February 1 - IES
Ghana's debt jumps from GH¢450 billion to GH¢575.7 billion in 2 months
Top 10 African countries projected to have the lowest annual inflation rates in 2023
Nigeria, Cameroon and Zimbabwe lead the pack of African students studying overseas
We will not sack you — Telecel assures Vodafone staff
Aviation and travel leaders meet in Accra for 4th Aviation Ghana stakeholders meeting
The Ugandan president is confident that Uganda will make billions of dollars in a short time
Ghana has seen some progress with its Domestic Debt Exchange program after a month