Ghanaian students honored the Morrocan King
His Majesty Mohammed VI, King of the Kingdom of Morocco was awarded as a NOBEL CHANGE AMBASSADOR, in this year edition of the National Students' Award having been highly recommended by the All African Students Union (AASU) partners of the Ghana Morocco Old Students Association (GHAMOSA).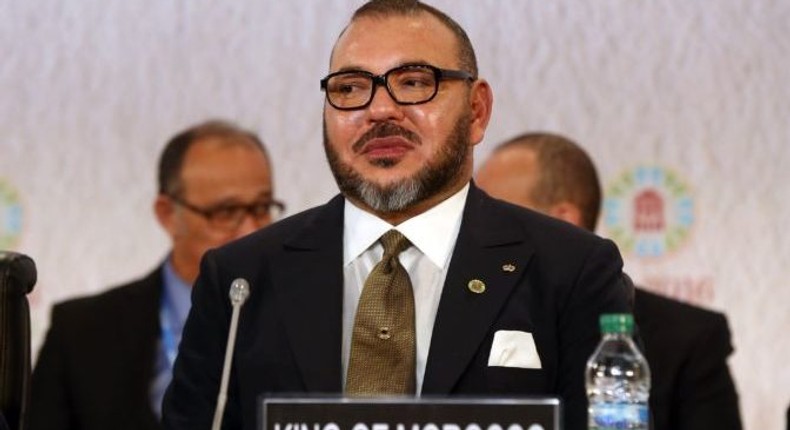 The National Students' Awards is an award scheme organised by the National Students' Alliance, a body corporate established by the leadership of all student groups in Ghana. This year edition was put together successfully at the KNUSFORD University College.
The scheme has honored Educational Ambassadors like His Excellency Former President John Agyekum Kuffuor, His Excellency Former President Jerry John Rawlings, The Former Rector of the Ghana Institute of Management and Public Administration (GIMPA) Prof. Adei Mensah, the Vice Chancellor of University of Ghana (Prof. Ebenezer Oduro Owusu) Prof. Mrs Esi Awuah (Former Vice Chancellor of the University of Energy and Natural Resources), Prof. Joshua Alabi (of the University of Professional Studies, Accra) and many more.
Pulse Ghana
In this year's edition, His Majesty Mohammed VI King of Morocco was awarded as the NOBEL CHANGE AMBASSADOR for his immerse contribution in educating African youths through his scholarship programme. The King through the Moroccan Agency of International Cooperation(AMCI) offers 100% scholarship to thousands of foreign students especially African students. The aim of the scholarships is to strengthen the bond with international students.
Other winners in this year Edition were Dr. Kwadwo Afari-Gyan (Former Electoral commission of Ghana), Dr. Kwaku Oteng, Mr. Leonard Odoom, Hon. Matthew Opoku Prempeh ( Educational Minister), Lawyer John Kumah, Bestbrain Dzineku Kennedy, Mr. Emmanuel Effah, Dr. Christian Koramoah, Mrs. Christina Bampo Henaku, Mr. John Kwamena Essel, and Dr. Douglas Akuamoah Boateng.
In his reaction to the award , Mr. Peter Panyin Anaman, President of the Ghana Morocco Old Students Association (GHAMOSA) praised His Royal Majesty Mohammed VI the King of the Kingdom of Morocco. He thanked the Moroccan King for the opportunity he has given many African students including himself to further their education in the Kingdom of Morocco. He added that, the contribution made by the His Majesty Mohammed VI regarding the Human resource development of African continent cannot be over emphasized.
Pulse Ghana
He continued "since His Majesty King Mohammed VI's ascension to the throne, Morocco has made numerous improvements and has committed to solidifying the quality of its education system. Public spending on education has been on the rise for the last 15 years. Morocco's youth population has made tremendous strides in increasing their literacy rates. According to World Bank reports, 95% of Moroccans aged between 15 and 24 years can effectively read and write. In 2017, Morocco received over 11 thousand foreign students, 85 per cent of which were from the African continent. In other words, over 9 thousand African Students were enrolled in Morocco, with over 6000 students being beneficiaries of scholarships. The number of Moroccan scholarships granted to the Government of the Republic of Ghana for the 2017-2018 academic year was 70, as compared to the 45 scholarships awarded for the 201 6-2017 academic year; a 55 per cent increase by the addition of 25 scholarships last year. So far, we have over 500 Ghanaian students trained in Morocco. We currently have Ghanaian students pursuing their studies in various fields in Morocco"
He continued, "to further foster cooperation between the two countries, the Government of the Kingdom of Morocco offered a number of technical cooperation and expertise sharing, through training courses, in which 19 Ghanaians took part in some of the following fields: 1) Diplomacy/traditional crafts/ fisheries/ tourism/ customs and indirect taxes/Habitat and urbanism/ agriculture/Maritime transport/Health. 2) The National Telecommunications Regulatory Agency/ L'agence nationale de reglementation des telecommunications (ANRT) sent experts to Ghana to share the Moroccan experience in the field of telecommunication modernization. The Kingdom of Morocco is doing its best to further strengthen the relations between the two countries through educational and cultural cooperation".
The Ghana Morocco Old students Association (GHAMOSA) is association of young Ghanaian executives trained in Morocco and currently integrated within various sectors in Ghana. Their membership is comprised of entrepreneurs and professionals operating within the financial services, medical, oil and gas, legal, hospitality, academia and other sectors. The aim of the association is to promote co-operation between Ghana and the Kingdom of Morocco and to raise public awareness on the numerous opportunities available to Ghanaians in Morocco especially in the educational and economic sectors. This awareness is to further strengthen the already existing bond between the two countries.
Members of the Association who accompanied the, Moroccan Ambassador, His Excellency Ambassador Mohammed Farahat to pick the award, ceased the opportunity to thank His Royal Majesty Mohammed VI, King of the Kingdom of Morocco for his sincere interest in educating African students. "The effort of His Royal Majesty in educating African youth is an indication that the future of our continent can only get better" they concluded.
JOIN OUR PULSE COMMUNITY!
Recommended articles
Bedroom video of Dr UN and Joyce Mensah goes viral over captured 'erection' (WATCH)
Releasing sex videos of Aisha Huang with 'big men' is a crime — Charles Bissue
Eugene Quaynor: Ghanaian footballer dies in fatal car crash in US
Chelsea owner Todd Boehly edging closer to buying second football club
'It's over a year' - Stefflon Don finally speaks on break up with Burna Boy (WATCH)
6 types of sex every couple should have
'Who is Beyonce?' -Football fans on social media slam Twitter user after claiming that the popstar is famous than most footballers
'9 goals in 5 games' - Erling Haaland beats Gabriel Jesus to win Player of the Month for August
5 foods that increase penis size naturally
Our newsletter gives you access to a curated selection of the most important stories daily.