<scriptid="mct-script"src="https://app.mycountrytalks.org/embed.js"data-iframe-src="https://app.mycountrytalks.org/talks/9b3c8cc1-8a05-4fa0-bcc2-edef9d8b28d1/join?starting_question=1153"async></script>
Mahama lauds reduction in teacher absenteeism
President Mahama said the development is a sign that educational standards are improving, urging the public not to be misled by claims that standards are falling.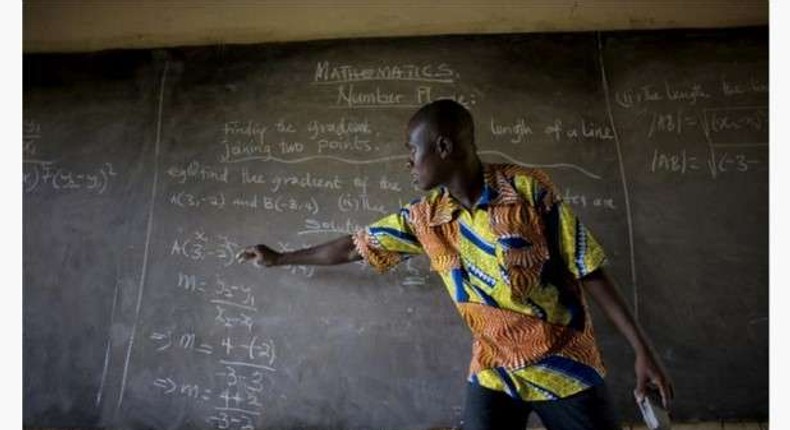 President John Mahama has hailed the reduction in
He thanked the teacher unions and the Ghana Education Service for reducing teacher absenteeism from 27 percent to 7 percent.
"I want to thank the teacher unions, GNAT (Ghana National Association of Teachers) and GNAGRAT (National Association of Graduate Teachers) and also the Ghana Education Service. Today as I speak, as at this year, teacher absenteeism is down from 27 percent to seven percent," he said at the commissioning of the Frafraha Community Day School.
The gradual reduction of teacher absenteeism has been attributed to strict measures put in place by the Ministry of Education and other stakeholders to tackle the issue.
The Brong Ahafo and Upper East Regions recorded the lowest teacher absenteeism rates in the country. The two regions recorded 2 percent as against the national rate of 7 percent.
The National Inspectorate Board (NIB) of the Ghana Education Service in 2013 mentioned teacher absenteeism as a major challenge for quality education in the country.
JOIN OUR PULSE COMMUNITY!
Recommended articles
Africa's richest woman Isabel Dos Santos finds herself deep in another financial scandal
Top 10 richest mineral-producing countries in Africa
Top 10 African countries with internet freedom
Top 10 African cities where it is most expensive to get food
Akufo-Addo to address nation tonight on Covid-19, IMF deal
Polytechnic student commits suicide after losing his and roommate's fees to betting
5 African countries which have received loans from the IMF in 2023
E/R: Vehicle plunges into river, killing three
8 persons arrested by Police at NDC primaries for various offenses