Funny Face trolls ex-wife, says "the two minutes turned to twins"
Comedian Funny Face has publicly forgiven his ex-wife Elizabeth Nana Adjoa Ntim after their bitter divorce in 2016.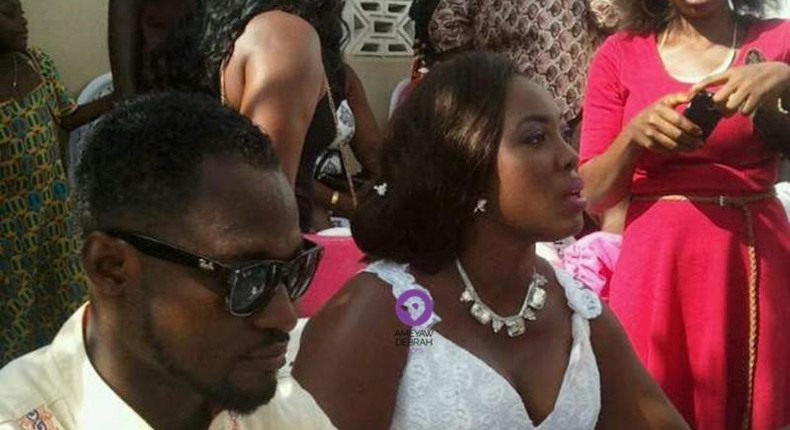 During their divorce, the couple washed their dirty linen in public and at some point Adjoa claimed Funny Face lasts two minutes in bed.
Funny Face denied that claim some months ago but this time, it was major shade.
He wrote a long piece explaining why he decided to let go of his anger and hatred for his ex-wife, but ended with a huge shade: "the 2 minutes 'issue' turned to twins".
He captioned their photo: "A letter to my Ex wife ... Hello NaNa Adwoa …how u doin ? Hope all is well with u and da family .. well let me go straight to da point .. for some years now .. I have harboured soo much hatred and Anger towards you .. you have da least idea ! While praying dis dawn .. I felt it deep in my spirit ... dat I have to do dis publicly .. from today Nana .. I FORGIVE YOU .. everything you said abt me during our fight .. everything I said abt u too .. pls FORGIVE ME .. let's live peacefully on dis earth for da world we see today is passing away soo quickly .. TODAY WE ARE HERE .. TOMORROW WE GONE. .. deep within you I know if I die today .. u won't be happy .. and vice verse ! Recently when we were shooting KASOA TROTRO tv series .. you saw me and u smiled .. I know even tho u won't show it .. you are Happy dat things are moving on well with me now . .. and the 2 minutes " issue " turned to twins .. GOD has blessed me in double fold NANA .. so from today I SET MY SELF FREE from any anger and rage .. dat has kept me in bondage ... and oh WIKIPEDIA pls update my bio now to my new Wife. I WISH YOU ALL DA BEST. NANA .. keep shinning."
JOIN OUR PULSE COMMUNITY!
Recommended articles
Ini Edo reacts to reports of welcoming a baby through surrogacy (VIDEO)
'Don't use relationships to reform a man' - Uncle Ebo Whyte to women
'My father lives a modest life despite being a billionaire' - Davido
'Diamond Appiah has lung cancer due to excessive smoking' - Adu Safowaa bucks again
Kwabena Kwabena to perform at Popular but Broke comedy show
"Terminus": Ghanaian film exposing the pharmacy business premieres Jan. 7, 2022
Akuapem Poloo heads back to jail as High Court dismisses appeal case
Hajia Bintu marks her 23rd birthday in style, drops stunning photos
'It hurts' - disappointed Rocky Dawuni responds to Stonebwoy's shade fueled by bloggers