Singers' nasty clash on Twitter
Demi Lovato is mad at Pink for allegedly dissing her 2015 MTV VMAs performance. She goes on Twitter and fires back at Pink's assumed diss tweet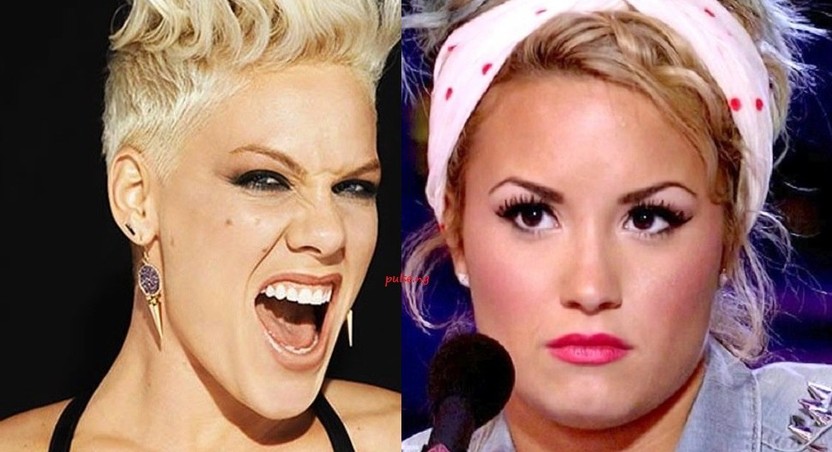 Pink and Demi Levato could be the nastiest Twitter celebrity fights since Nicki Minaj early this month.
The drama began Thursday, September 3, when it was revealed Pink had given her take on the VMAs via her private Instagram account. The veteran performer, who did not attend the show, posted:
"I felt embarrassed and sad. And old. We're getting old. But in all seriousness; I felt sad because music is supposed to inspire. It saved my life. This trash won't save any kids life. In a world that is even scarier and with lives still worth saving, who will stand up and have soul? Disenfranchised to say the least. Let down by my industry and peers. Beside and [sic] and (pre-sob fest) and [sic], was dope too. The rest was gross and embarrassing and hard for this aging pop star to believe."
Because Pink didn't specifically mention Lovato by name as one of the acts she approved of, many assumed she was putting her in the "trash" category. That sparked a wave of hateful tweets to be sent her way, leading Pink to respond early Friday morning. "Please look for a feud elsewhere. I have no issue with Demi Lovato or anyone else. I actually forgot she performed. I have opinions. Many! I stand by what I said. However, I didn't intend for the angry people of the world to latch on and make it into something it isn't. Peace."
Despite Pink stating that she wasn't referring to Lovato, Lovato fired back, anyway. "Cool For The Summer may not 'save kid's lives' or 'inspire' but I'd say Skyscraper & Warrior have done a pretty good job of helping people cope with mental illness. VMA's are sexy and fun. There's a time and place for everything."
"I'm excited for you all to hear the inspirational/honest/soulful songs on this album. #Lionheart #Father #StoneCold #Confident… Oct. 16," she wrote. "I'm learning so much every day by this new chapter in my life. I'm no longer the victim. I am the survivor. What's wrong with being #Confident?" Lovato went on to retweet messages of support, and plug her new record.
Just over an hour later, Pink returned to Twitter to again clarify, writing, "You know, this is part of why I'm sad about the VMas and the world in general. Everyone is so nasty and waiting for a fight. I never said Anything about Demi Lovato or called out anyone. I was talking to a friend in response to his disappointment about the show. I agree w him. You can make this into whatever you like, cause that's who we are now, I guess. I'm out,"
She continued. "In other news, it's gonna be a beautiful day, I hope you look up from your keyboards and enjoy it."
It's worth noting that Lovato's fans also went after Kathy Griffin earlier this week after she very obviously did diss the VMAs performance.
JOIN OUR PULSE COMMUNITY!
Recommended articles
Sarkodie denies recording a song with Gyakie
Afia Schwarzenegger slams Serwaa Broni over wild allegation about Nana Addo (WATCH)
Kennedy Osei responds to Funny Face's apology to Fada Dickson (SCREENSHOT)
'I'm in a relationship with my business, not a man' - Delay clears the air
Kwaw Kese calls for the closure of 80% of churches
'Tell Jay-Z to stop copying me' – Mr Eazi warns
'I am willing to wash Martha Ankomah's pants, she is my crush' - Kwadwo Sheldon (VIDEO)
'Shatta Wale is on drugs, just look at him closely' – Blakk Rasta claims (WATCH)
BBN's Cross posts his nude on snapchat; says 'it was a simple mistake' (WATCH)