K.K Fosu's apology not accepted – Nicholas Omane Acheampong
K.K Fosu had alleged that 99% Ghanaian musicians use marijuana to enhance their performance on stage.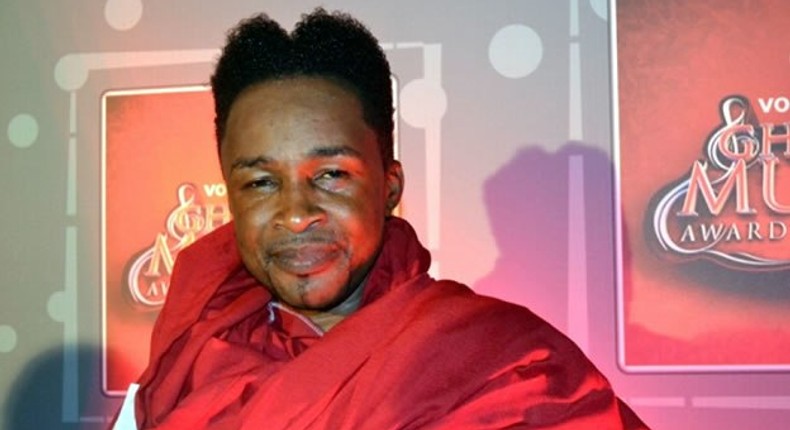 Gospel musician, Nicholas Omane Acheampong has indicated that highlife artiste, K.K Fosu's apology for his 'wee' comment cannot be accepted.
K.K Fosu had alleged that 99% Ghanaian musicians use marijuana to enhance their performance on stage. The artiste came under public backlash for his comments while Nicholas Omane Acheampong threatened to take legal action against him.
This prompted an unqualified apology from the hit maker who described his comments as unfortunate and ignorant.
"Upon careful reflection and analysis of the statement I made, I feel ashamed for those remarks because it is unfortunate and ignorant of me as a pioneer of the music industry. I bow my head in shame and ask for the forgiveness of all whom have been affected by this unfortunate slip of tongue," a statement from K.K Fosu said.
But responding to the apology on Radio Univers' mid-morning show, on Tuesday, Nicholas Omane Acheampong said although he acknowledges the fact that humans err, the apology would have been accepted if K.K Fosu had completely retracted his comments.
He told show host, Abrantepa that K.K Fosu should clear the air about the 99% claim. This he believes is the only way musicians would be cleared of the impressions that they are drug users. The Zaphenath-paneah hit maker lamented that musicians have lately come under numerous criticisms for various reasons and for their colleague to level such an allegation is despicable.
"It is true to err is human. We all go wrong one way or the other but apologise. I'm sure some elders behind K.K Fosu advised him to do so because of the implications. His apology can be accepted but there are some technicalities here. For Ghanaians to know that his comments were false, he should come out clean. He should let us know whether it was a loose talk or it is true that 99% smoke wee. He should do his calculations well so Ghanaians will know that his digits were wrong. I would not have had any issue with him if he had said that some musicians smoke wee. His percentage is outrageous. Your raw 99% seems to suggest that you've seen musicians including pioneers smoke. Meanwhile you've not seen them smoke," he said.
"K.K Fosu should come again. We sin and ask God for forgiveness. We will accept his apology but he should retract his comments. We can forgive him. However, I cannot say we have accepted his apology. The case is going to court any time soon," Nicholas Omane Acheampong added.
When he was confronted that he was not mentioned in K.K Fosu's comments explicitly, Nicholas said he is not pursuing the issue for his sake alone but several artistes. He added that the gospel musicians form more than 20% of the total number of musicians in Ghana and so the other 19% have been implicated if what K.K Fosu said is anything to go by.
"I am telling you that the gospel fraternity is even more than 20%. Every chorister, worship leader and artiste is involved. He should come out with the correct calculation. I need K.K Fosu to come back again. You can't level such an allegation and later come back to apologise. You've already said what you wanted to say. Gospel musicians have come under several criticisms and the least we expected was a fellow musician to utter such words. He should come out with the correct so that Ghanaians will know that this is the actual figure of K.K Fosu and his wee smokers, so to speak," he stated.
Nicholas Omane Acheampong added that he can neither deny nor confirm that gospel musicians use marijuana because he has not seen anyone use it.
JOIN OUR PULSE COMMUNITY!
Recommended articles
I will wear panties for interviews if I produce a song about that - Feli Nuna
'Karma exists' – Tonto Dikeh reacts to the demolishing of ex-boyfriend's house
I've not been sacked from UTV, never had twins - Nana Ama McBrown (WATCH)
Gospel musician Joseph Matthew says he's not a Christian
Iphxne DJ and Berima Seanbills brought life to Kendrick Larma album listening party
Osei Tutu died of spiritual attack, 9 pins were removed from his throat - mother (WATCH)
Doctors and teachers should rather be enjoying the conditions of politicians – Yvonne Nelson
BNXN (Buju), Victony, Kwesi Arthur Shut Down GoldBlock Party
Kendrick Lamar and 8 international superstars whose visit to Ghana attracted buzz