Samini rekindles beef with Shatta Wale, disses him on new freestyle track
"Don't apologise to me but to the almighty," Samini tells Shatta Wale on Drake's "Back to Back" cover.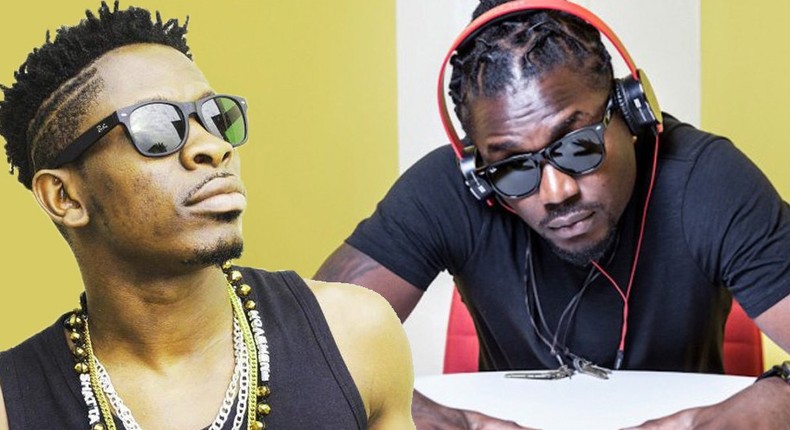 Samini rekindles his long beef with fellow musician Shatta Wale on Drake's "Back to Back" cover.
Though, no name was mentioned on the track he titled "Vex Madd", his lyrics are clear especially where he mentioned apologies rendered to him by Shatta and later saying we can call the track "Meek-Drake beef".
"The peace train just got derailed/The peace pipe just went up in flames/Cause these guys lost some childish games/And am about to free minds from shackles and chains," Samini started off on "Vex Madd" trying to draw listeners attention to the secrets he is about to divulge.
"Here we go again/Call it Drake and Milli (Meek Mills)/If you need a track to blow, selling half a milli (million)/In your dreams all you see is my team/High Grade took a break left you in the hands of Bhim," Samini mocks Shatta Wale and proves to him that even while he was on hiatus, he (Shatta) couldn't make it because he left him in the hands of Stonebwoy.
Samini also revealed that, Shatta Wale's apology letter to him was a strategy he wants to use to get gigs. "Now they try to call my name cause (because) they need some shows," says Samini.
"Just when I saw it was all over/Looks like an old dog needs some makeover/Am confused now/I need some explanation/Last time I checked, I had no complications/You lied to the world that I was evil/Try everything you could just to bruise my ego/Tons and tons of dust in the eyes of people/Now you trying to come back with more empty info (information)," Samini reveals how Shatta Wale has managed to thrown dust into the eyes of people and how it affected his personality.
Samini went on to tell Shatta Wale on "Vex Madd" that, he should rather apologise to God instead of him. "Don't apologise to me but to the almighty," Samini opined.
Finally, Samini revealed that his inactions has really affected him so he voiced out all the pain he went through in the hands of Shatta Wale.
"If I share with you the sh*t that people say to me/You are opposite of all the things that you claim to be/You try all your life, bringing pain to me/In the middle of summer (dry season) you bringing rain to me," chagrined Samini spits.
Samini and Shatta have had a never ending beef. Shatta Wale on his part has tried on several occasions to resolve the beef amicably but all the attempt he has made has been inefficacious.
Download and listen to "Vex Madd" below and don't forget to share your views.
JOIN OUR PULSE COMMUNITY!
Recommended articles
KiDi and son share amazing moment together [Video]
Hushpuppi sentencing postponed again by U.S court
Rich Ghanaian kid gets police escort to buy a burger; the internet reacts
A man who promised to invest in my career demanded sex in return — Feli Nuna
My yet to be released song with Sarkodie will be a hit – Amakye Dede
My first song was gospel, I never thought of recording highlife – Ofori Amponsah
Churches in Ghana will rather build a church than invest in talents - Ofori Amponsah
Jackline Mensah escapes death in fire disaster at home (VIDEO)
My 'Touch It' song has made money from streams than any Ghanaian song - KiDi (VIDEO)