DIY Recipes: How to make Nkatiekonto (Groundnut soup with greens)
Nkatiekonto is one of the more famous foods in Ghana.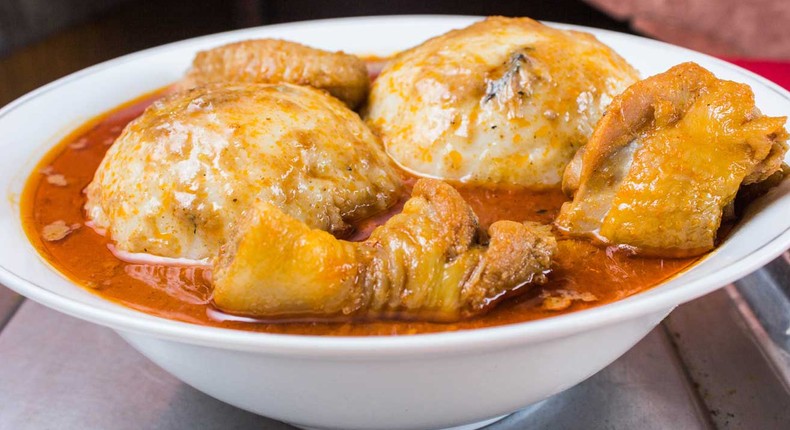 Rice balls best complement this recipe.
2 hot peppers (habanero is the most authentic)
1 small can of tomato paste
1-1/2 cups natural, creamy peanut butter
1 tablespoon of salt (or so)
1 cup of black-eyed peas, soaked for a few hours
8 cups of vegetables, chopped into large-ish chunks (carrots, green or red peppers, green beans, cabbage, mushrooms, zucchini, tomatoes, etc)
1 head kale, chard, spinach, or collard greens (chopped)
Chop the onion and saute in a large soup pot with a small amount of oil.
Once translucent, add the mushrooms. In a blender, combine garlic, ginger, hot pepper, tomato paste (which is widely used in Ghana, by the way), peanut butter, and a couple of cups of water.
Blend until smooth and pour into the soup pot. (If you don't have a blender then mince the ginger, garlic, and pepper and toss everything into the pot, it will work just fine). In Ghana, we use a locally made clay mortar and wooden pestle to grind the ingredients; most people do not have a blender.
Add the rest of the water, the beans, and the remaining vegetables, except for the greens, which you should add in the last 10 minutes. Simmer on medium-low heat for an hour or more, until the beans are soft and oil begins to separate and float on top of the soup. (If you have a pressure cooker, you can cook this whole concoction that way, but be aware that some will burn on the bottom). Let the pressure cap jiggle and spurt for 12 minutes.
Serve with Omotuo (Rice balls).
JOIN OUR PULSE COMMUNITY!
Recommended articles
Marriage goals: Okyeame Kwame sends touching message to his wife on their 13th anniversary
For women: Here's why you feel horny during your period days
Let's inhale some beauty from actress Tracey Boakye on her birthday
5 best ways to prevent your hair from tangling
5 herbs and spices to help you get pregnant fast
Gents: 4 things to know if you want to date an older woman
Fella Makafui causes stir on internet with new photos
Don't use sex as proof of love - Delay advises women in '10 commandments'
DIY Recipes: How to make the best BBQ Chicken wings