How to make delicious fruit salad this Christmas
Fruit salad is a dish consisting of various kinds of fruit, sometimes served in a liquid, either in their own juices or a syrup. When served as an appetizer or as a dessert, a fruit salad is sometimes known as a fruit cocktail or fruit cup.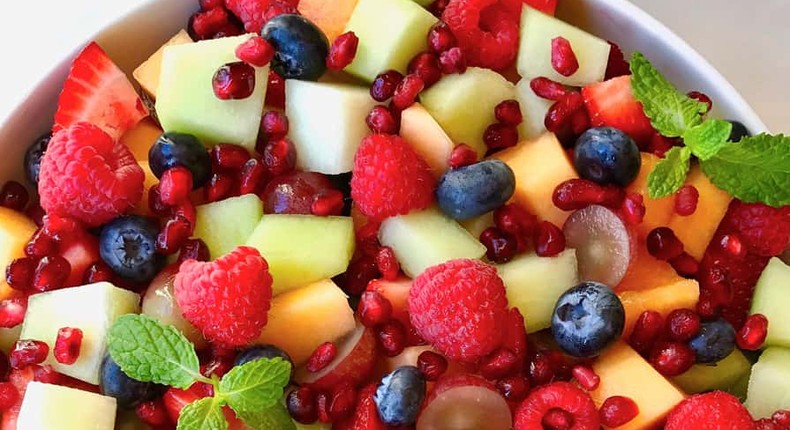 1.Bring orange juice, lemon juice, brown sugar, orange zest, and lemon zest to a boil in a saucepan over medium-high heat. Reduce heat to medium-low, and simmer until slightly thickened, about 5 minutes. Remove from heat, and stir in vanilla extract. Set aside to cool.
2.Layer the fruit in a large, clear glass bowl in this order: pineapple, strawberries, kiwi fruit, bananas, oranges, grapes, and blueberries. Pour the cooled sauce over the fruit. Cover and refrigerate for 3 to 4 hours before serving.
Get our Top Stories delivered to your inbox
Recommended articles
Grapes: The beauty benefits of this fruit are incredible
DIY Recipes: How to make Cucumber juice
Global Citizen Festival: Joselyn Dumas' hosting styles are unrivalled, here's why
Best-dressed celebrities we saw at the Global Citizen Festival 2022
For women: Why you are having post-period cramping and what to do
Unplanned pregnancy: Here's how to tell your partner you are expecting a baby
DIY Recipes: How to make Chicken sauce
9 items you don't want to share with even your shadow
Over 20,000 Ghanaians test positive for HIV in first half of 2022