Prep:

10 mins

Cook:

25 mins

Ready in:

40 mins

Serves:

4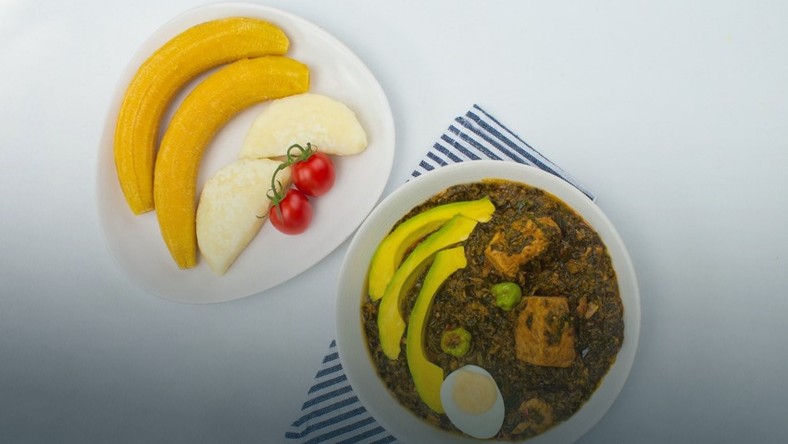 Ingredients
½ Cup milled melon or gourd seeds (Egusi)
1 Large smoked mackerel (or tuna), cleaned and deboned
3 medium tomatoes
2 Large onions
½ inch ginger root
A bunch of 15-20 cocoyam leaves (Nkontomire)
1 clove garlic
3 red chillies
3 tablespoons palm oil
1 MAGGI DƐDƐƐDƐ tablet
Cooking instructions
Wash the nkontomire leaves thoroughly with lukewarm water. Cut into strips.
Slice up 1 onion.
Blend tomatoes, 1 onion, pepper, ginger and garlic together. 
Pour oil in a saucepan and set on medium high heat.
Add the sliced onions and stir fry for about 2 to 3 minutes.
Add blended ingredients and allow to cook for about 5 minutes, then add mackerel chunks.
Add MAGGI DƐDƐƐDƐ tablet for seasoning. 
Allow the stew to simmer down for about 10 minutes, for the sauce to reduce by an inch.
Mix Egusi with ¾ cup water into a paste, add to stew, and allow it to simmer for a couple of minutes before stirring to create texture (Allow to cook for another 3 minutes).
Add the nkontomire / cocoyam leaves and stir under a low heat. 
Allow to slow cook for about 5 minutes. 
Serve with yam, plantain, rice, cocoyam etc.