Tech giants brings Andriod One to Africa with Infinix Hot 2
The device, which is the first smartphone on the Android One program in Africa, will enable all users enjoy the latest version of Android with guaranteed software upgrades after release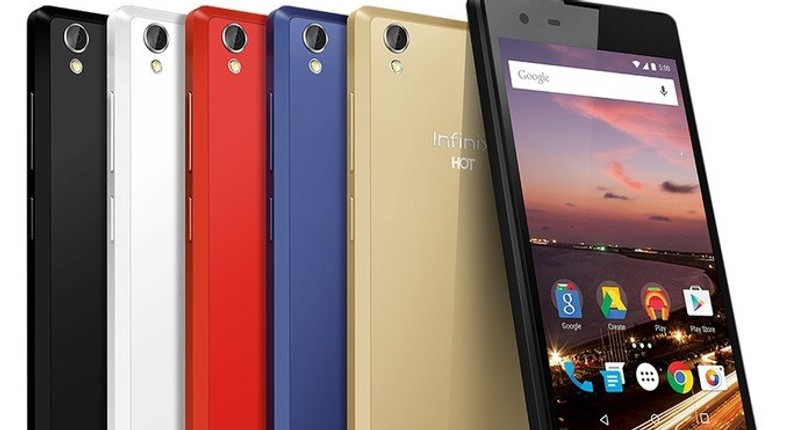 Infinix Mobility has announced the launch of the new Infinix Hot 2 phone in collaboration with Google.
The device, which is the first smartphone on the Android One program in Africa, will enable all users enjoy the latest version of Android with guaranteed software upgrades after release, premium hardware specs and a wide range of customized apps.
Speaking on the device, Mobility, stated that the new Infinix Hot 2 will redefine the smartphone industry in Nigeria.
He said "At Infinix we believe that Nigerian end-users deserve to experience the latest in trendy smartphones at competitive price.
"That is why we are pleased to collaborate with Google to deliver this unique smartphone; the Infinix Hot 2. We are confident that the phone will push the frontiers of smartphone technology to the next level."
There are two versions of the Infinix Hot 2, 16GB ROM+1GB RAM and 16GB ROM+2GB RAM.
They both come with a 1.3GHz Quad-Core Processor and 16GB internal memory. The smartphone has a 2200mAh battery that allows users to enjoy the device for longer hours.
Powered by a Mediatek 1.3GHz Quad-Core Processor and a 2GB RAM, users can play 3D games on the Infinix Hot 2 in addition to an extraordinary experience while watching videos in high-definition (HD).
The device runs on Android Lollipop and there will be automatic update to the latest version of Android when it becomes available.
As with other phones running the latest Android Lollipop, users of the Infinix Hot 2 can automatically enable the new battery saver feature to extend battery life by 90 minutes. Users can also see the estimated time left before they need to recharge.
The Infinix Hot 2 also comes with a 5.0 inch display and high-definition (1280 x 720 pixels) resolution that provide users with enhanced gaming and video experiences, allows users to read and respond to messages directly from the lock screen and provides quick access to tools like the flashlight, Bluetooth, WI-Fi, and more- also standards available on the latest Android Lollipop.
The Hot 2 is made of Dragon Glass making it anti-scratch and resistant to native damage. It also has an 8.0 MP rear camera in addition to 5P Lens and 2MP front-facing camera.
In addition to improved high dynamic range and low-dark current, the device perfectly complements the 5P lens which increases light sensibility by 30% thus making it possible for users to take high quality photos anywhere and anytime.
JOIN OUR PULSE COMMUNITY!
Recommended articles
DIY Recipes: How to make an easy Cheesecake
11 romantic photos of Inaki Williams and his partner Patricia Moraless
Style Inspiration: 6 times Selly Galley made a strong case for two-piece outfits
Let's Talk Sex: Is it wrong to want more sex than your husband?
Fulani: A brief walk into the origin and lifestyle of this beautiful people
Breastfeeding arousal and orgasm: Here's why you get turned on by feeding a baby
Here's how to use Vitamin C serum to achieve the best glowing skin
DIY Recipes: How to make Beef sauce
How to dress stylishly for your birthday inspired by songstress Fantana