Gay couple tie the knot with 10 bridesmaids dressed in wedding gowns (PHOTO)
Each girl was allowed to choose her own wedding dress, all expenses paid by the gay couple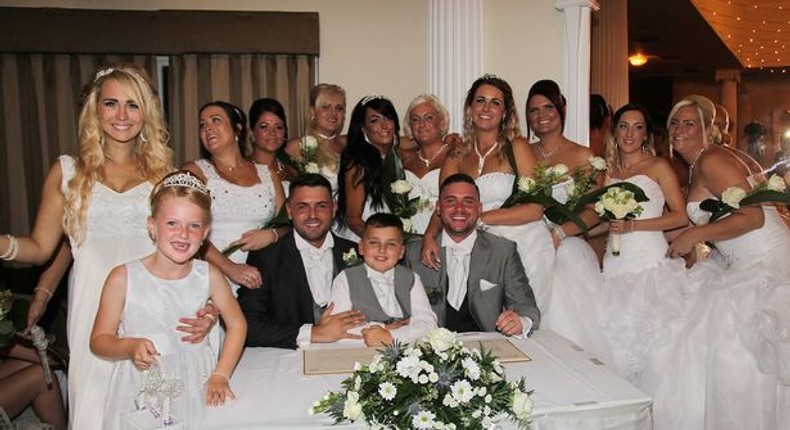 Talk of a way to make a marriage statement!
Grooms, Deri Rogers and Ben Wood both from Welsh felt their wedding wouldn't be complete without a bridal dress, so decided to incorporate it into their wedding.
"Being a gay wedding we weren't going to have an amazing gown reveal like at other big weddings," Rogers told Wales Online.
The couple decided they'd create their own "amazing gown reveal," and they certainly achieved that - all 10 of their bridesmaids wore fabulous white bridal gowns.
Usually a wedding has about three or four, but Rogers and Wood didn't want any of their gal pals to feel excluded, and they wanted to make a splash.
"We had lots of ideas for the wedding from the girls, but I wanted something outrageous," Rogers said.
Each girl was allowed to choose her own wedding dress, all expenses paid by the gay couple.
"The girls all have huge personalities and so there was terrible competition, dress disasters, and fallouts but on the [wedding] day they all looked fab," said Rogers.
Recommended articles
DIY Recipes: How to make Ga kenkey with sauce and fried fish
10 trending kente styles that took over the 'gram in February
For couples: 5 best tips to have better sex and intimacy
Chatrooms and how they may be the most fun, or most dangerous places
4 common foods that are healthy for the skin
For women: 3 common infections you could contract during menstruation, remedies
DIY Recipes: How to make rice porridge
Penelope Adinku: Meet Ghanaian female surgeon who just set an incredible feat
Pull-out method during sex? Here's how it may fail, risks