President Akufo Addo names new SNNIT boss
Dr. John Ofori-Tenkorang has been appointed the new head of the Social Security and National Insurance Trust (SSNIT)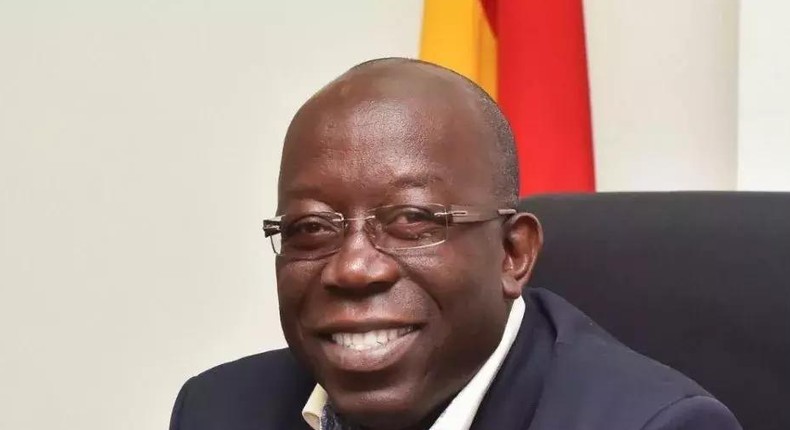 Investment banker Dr. John Ofori-Tenkorang has been appointed the Director-General of the Social Security and National Insurance Trust (SSNIT).
The appointment, which was made by the president, will see Dr. Ofori-Tenkorang replace the former SSNIT boss Ernest Thompson.
Dr. John Ofori-Tenkorang is a seasoned Investment Banker, Engineer, and Academic.
He had his primary and middle school education in Kwahu-Tafo, and secondary school education at St. Peter's Secondary School, Nkwatia-Kwahu. He subsequently attended Lester B. Pearson United World College of the Pacific in Victoria, BC, Canada, where he obtained his International Baccalaureate Diploma.
He attended Massachusetts Institute of Technology (MIT), where he was awarded Bachelor of Science, Master of Science, Engineer, and Doctor of Science Degrees in Electrical Engineering & Computer Science. He is a member of Tau Beta Pi, Eta Kappa Nu, and Sigma Xi engineering and scientific honor societies.
At MIT Dr. Ofori was an Instructor, where he taught several undergraduate and graduate courses, won the Carlton E. Tucker Teaching Award, and was offered a faculty position. He developed novel electric motors and propulsion systems for modern electric vehicles for Ford Motor Company, as part of President Clinton's Partnership for a New Generation of Vehicles (PNGV) initiative. Dr. Ofori was part of a team sent by MIT in 1992 to then Czechoslovakia to conduct business studies on how to transition their industrial enterprises from centrally planned production units to market-driven, private autonomous enterprises.
In 1996, Dr. Ofori made a career change and took employment with American International Group (AIG) in their financial services subsidiary AIG Trading Group (AIGTG). As Assistant Vice-President and subsequently Vice President, Dr. Ofori developed forecasting models and systems for currency and commodities trading. He developed innovative insurance solutions that combined traditional insurable risks with capital market risks, which improved earnings and reduced earnings volatility for corporations. He also developed alternative asset classes for pension funds to achieve better diversification.
He worked extensively in structuring and executing derivative transactions, and raising financing for several mining companies in Africa and South America. He worked with several multilateral lending institutions to provide innovative structured hedging facilities to commodity producers with low credit ratings, and with the AIG Africa Infrastructure Fund in private equity deal origination.
Dr. Ofori moved on to AIG Financial Products Corp. (AIGFP) as Vice President, and Banque AIG as Executive Director. He was posted to South Africa, where he was responsible for AIGFP's investment banking activities in Africa. He developed AIGFP's capital markets businesses in the areas of Commodity Derivatives, Equity and Fixed-income Derivatives, Foreign Exchange, Structured Tax Products and Project Finance.
Dr. Ofori left AIG in 2006 to work with Gödel Commodities Management, Greenwich, CT, USA, and Dubai Natural Resources World, Dubai, UAE, as an independent contractor. He offered consulting services in deal structuring and the setting up of a Natural Resources Sovereign Wealth Fund within the Dubai World conglomerate.
Dr. Ofori has been working in the office of H.E. Dr. Alhaji Mahamudu Bawumia since 2014 as Technical Advisor. He is fluent in French.
JOIN OUR PULSE COMMUNITY!
Recommended articles
Kofi Adomah Nwanwani rushed to the hospital after assassins attacked him
We've run at a loss — 'Brukina' sellers cry over low patronage
National Cathedral: Be fair to God and contribute — Rev. Frimpong Manso urges Christians
No Ghana card, no vote: NDC won't sit aloof for NPP to connive with EC — Ofosu Ampofo
Bawumia is a unifier; he doesn't discriminate - Veep's mate rubbishes propaganda
Man electrocuted to death for attempting to steal ECG cables in Kumasi
Elections 2024: We won't register citizens without Ghana card — EC warns
Car set ablaze on University of Ghana campus as Commonwealth and Sarbah students clash
Babies with sharp teeth: We have people in NPP who don't respect — Boakye Agyarko